Senior Care in Clark NJ
At some point, most seniors will require assistance when walking or standing.  There is a natural psychological resistance to using any type of walking aid device, regardless if it is a cane, walker,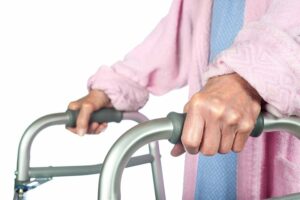 motorized mobility device, or a wheelchair.  However, if the correct device is chosen, seniors will likely get used to it and will come to feel safer.
Advantages
The risks of slip and fall accidents for the elderly are significant. WebMD says this is the most common cause of injuries for the elderly. Many of these injuries are very serious, especially those that result in hip fractures. Some of these slip and fall accidents are fatal.  Having a walker handy in the home helps prevent such slip and fall accidents and is important for senior care and elder care.
Walker Types Available
Mayo Clinic provides tips for selecting a walker. Walkers come in various designs and sizes, depending on the need. Some walkers can fold up for easy transport to another location;  other walkers have less portability but provide more stability.  There are also walkers that have all-terrain wheels that are effective in passing any challenges encountered outdoors.
Correct Fitting is Critical
It is important that any walking-device, whether it is a cane, walker, or other device be properly fitted for the person needing help.  Correct fitting of any device is imperative in making sure the device is used in a safe way and that it provides the maximum amount of support.
Price Range
The price for walkers starts at $44 and goes up, depending on the features incorporated in the design. Portable walkers are more expensive. Walkers that have four wheels cost more than those with two wheels. Some of the walkers have larger wheels, which makes them easier to push over rough surfaces. Others have accessories that add more convenience.
If you or an aging loved one are considering hiring senior care services near Clark, NJ, call the caring staff at Helping Hands Home Care today at 908-418-4299.
Providing Home Care Services in all of Northern and Central NJ, including Clark, Westfield, Cranford, Scotch Plains, Rahway, Linden, Summit, Edison, Elizabeth, Mountainside and the surrounding areas.
Source
Tips for choosing and using walkers
http://www.mayoclinic.org/healthy-lifestyle/healthy-aging/multimedia/walker/sls-20076469
Which walker is right for me?
http://www.walker-facts.com/Which-Walker-is-Right-for-me.asp
Walkers: Reviews
http://www.consumersearch.com/walkers
Latest posts by Robert D'Arienzo
(see all)