Elder Care in Linden NJ
It had been more than six months since Jennifer was looking after her elderly mother. When her mother had been hospitalized following a minor stroke, many family members came to the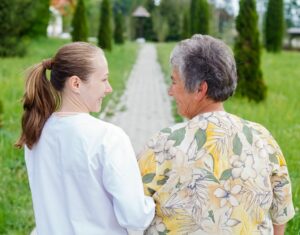 hospital and were relieved to know that her mother was going to make a full recovery. The doctor said she was going to need some assistance when she was discharged from the hospital because there would be a time of recovery necessary.
During those first few weeks, Jennifer was extremely busy between work, her other responsibilities and taking her mother to follow up doctors' appointments and to the store. Her mother didn't have the ability to do certain things for the first couple of months, including light housekeeping, so Jennifer was tasked with providing that type of assistance for her.
As her mother continued to improve, she became more independent and it meant she was looking at driving herself once again, doing her own laundry, and basically allowing Jennifer to get back to her life. Jennifer didn't think that was a great idea because she saw how difficult it was for her mother just to get around. She also noticed certain signs that her mother was dealing with mental challenges she had yet to acknowledge.
Jennifer knew she had to discuss the prospect of elder care with her mother.  In addition, she didn't think her mother should be driving, and that was going to be a difficult conversation.  Jennifer started the conversation by focusing on how grateful she was to still have her mother around. She talked about many of the things her mother wanted to do and focused on the challenges she faced.  By explaining things that she saw in her mother, especially getting up and down stairs, getting out of bed, and other challenges she was facing, it became a bit easier to guide the conversation to the topic of elderly home care and driving.
Her mother was defiant at first, but the more Jennifer discussed the limitations she now faced, the more she began to realize that driving may be something she needed to put off, at least for a while longer. That's when Jennifer mentioned certain elderly home care providers could offer transportation services to get her to doctors' appointments, to the store, and to even visit friends and do other activities. Because of this, her mother became more interested in learning even more about what professional elder care could offer.
If you or an aging loved one are considering hiring elder care services near Linden, NJ, call the caring staff at Helping Hands Home Care today at (908-418-4299).
Providing Home Care Services in all of Northern and Central NJ, including Clark, Westfield, Cranford, Scotch Plains, Rahway, Linden, Summit, Edison, Elizabeth, Mountainside and the surrounding areas.
Latest posts by Robert D'Arienzo
(see all)