Elder Care in Edison NJ
As people age, their brain begins to shrink, especially in the frontal cortex, causing a reduction in memory. While not every person has the same brain change, participating in stimulating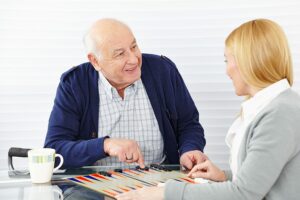 activities will keep the senior's mind sharp, especially those older adults who are receiving elderly care.
Stimulating Activities for Seniors
Conditions that impair the cognitive behavior of elders who are getting in-home care suffer from memory loss, as well as their ability to think and make decisions. Older adults with these conditions could especially benefit from stimulating activities because they will help strengthen their memories and communication skills. Here are some games and activities you should make time for each day.
Play with Colors
Bright colors have been proven to bring older adults back to their childhood, while also exercising the elder's brain. Playing with brightly colored balls, dolls, and colorful jigsaw puzzles with large pieces will help stimulate their mind both physically and mentally.
Mental Exercises
These activities are especially helpful for seniors who have Alzheimer's, dementia, or other mental impairments. Exercising their mind regularly will help enhance their memory and slow down the progression of their condition. Medical research has also backed these forms of mental activities, proving that it is one of the best memory building activities because of how the brain responds to specific stimuli. Puzzles, game boards, reading the newspaper, and playing bingo are all excellent options.
Include Animals
Just being in the presence of cats or dogs have shown to have a positive, calming effect on seniors. Not only do animals enhance the moods of elders who are getting senior care, but they also motivate them to exercise more by walking the animal or doing other outdoor activities with them. Owning a pet will also give older adults a sense of purpose since they will be responsible for feeding and caring for the pet. Before deciding what animal to pair up with your loved one, do your research to identify which one is good natured and is easy enough for the elder to provide care.
Arts and Crafts
Art therapy has become a staple in many nursing homes because the elderly are able to communicate their thoughts and feelings through art instead of words. It also improves motor and cognitive skills, promotes self awareness, and relieves feelings of anxiety, confusion, and stress. Some ideal options include painting, knitting, drawing, and sculpting. Some art classes for seniors can be found through senior centers or community education programs.
Household Chores
Even household chores can have a positive impact on the mental alertness of the elderly community. Sweeping, dusting, and any other household chores that the elder is able to help with will not only improve their cognitive skills, but will also keep them physically fit.
If you or an aging loved one are considering hiring elder care services near Edison, NJ, call the caring staff at Helping Hands Home Care today at (908-418-4299).
Providing Home Care Services in all of Northern and Central NJ, including Clark, Westfield, Cranford, Scotch Plains, Rahway, Linden, Summit, Edison, Elizabeth, Mountainside and the surrounding areas.
Source
Elderly Care Tips. "The Best Activities To Stimulate Elderly People."http://www.elderlycaretips.info/The%20Best%20Activities%20To%20Stimulate%20Mentally%20Ill%20Seniors.php
Latest posts by Robert D'Arienzo
(see all)