Home Care in Scotch Plains NJ
It is no mystery that most seniors prefer home care in comparison to moving to a nursing or assisted living facility.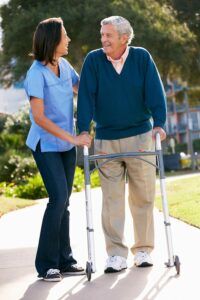 In addition to being more cost-effective, there are a number of additional benefits to choosing professional caregivers to come to the home and perform daily tasks, help with personal care, and provide companionship. More and more families are meeting together to discuss the pros and cons of in-home care. Hiring in-home care providers makes sense for seniors for many reasons.  Some of those reasons are outlined below:
#1: Assist with Everyday Needs
When loved ones are living alone, they may need someone to assist then with their everyday needs. Such activities include dressing, housekeeping, personal care, and showering. Non-medical home care is chosen primarily for the assistance of general household needs, as well as personal care. They are able to achieve this goal while still living comfortably in their own familiar environment.
#2: Shopping and Meal Preparation
Family members do not receive the proper nutrition if they're not able to get out to do their own shopping, or prepare their own healthy meals. Therefore, senior care services take away these burdens by bringing in a caregiver on a daily basis to adequately meet these needs. Nutritious meals are prepared in an environment that is not only safe, but is also familiar and comfortable.
#3: Medication Administration
It can be alarming and unhealthy when loved ones forget to take their medications, and a senior care professional will ensure this doesn't occur. In addition to that, they'll also ensure that your loved one is taking his or her medication(s) as prescribed.
#4: Companionship
When seniors lose their spouses, they could become depressed and long for companionship. When they are provided with the opportunity for companionship with their caregivers, loved ones are able to participate in many activities. It's possible for them to foster lasting and quality relationships with their caregivers.
Because managing responsibilities can become overwhelming for aging loved ones, elderly care could become a reality sooner than later. In addition to focusing on the daily needs including running errands, light yardwork, some housekeeping, meal preparation, and transportation, family members can rest assured that medications are taken as prescribed. Caregivers are trained to ensure that all safety precautions are met with regards to trips and falls, as well as ensuring there are effective measures taking place in the home with regards to railings, clutter, or other obstructions in the home.
If you or an aging loved one are considering hiring home care services near Scotch Plains, NJ, call the caring staff at Helping Hands Home Care today at (908-418-4299).
Providing Home Care Services in all of Northern and Central NJ, including Clark, Westfield, Cranford, Scotch Plains, Rahway, Linden, Summit, Edison, Elizabeth, Mountainside and the surrounding areas.
Latest posts by Robert D'Arienzo
(see all)