Clark, NJ – There's a Good Reason for the Growing Demand of Home Care Services
More seniors prefer to "age in place" today and that is causing an increased demand for home care services. What does it mean to age in place? Essentially this refers to a desire to remain within the comfort of one's own home, even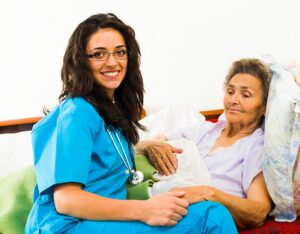 when facing various health related issues and physical limitations as a result of age.
In the past, the tendency might have been to consider assisted living or nursing home care for seniors when they couldn't safely and properly manage their own care at home. Today, however, more and more people are finding that it's possible to stay home where they're comfortable, where they have lived for a long time, and get the proper assistance they need.
What type of services are available to help people age in place?
The most common is a home care aide.  This is an individual who would come to the home on a regular schedule to assist the senior with a variety of tasks around the house. This could include basic light housekeeping, preparing meals, assisting the individual getting into and out of the shower, going to the bathroom, getting dressed, getting out of or back into bed, and much more.  Many caregivers may also be able to offer transportation services to their clients.
Next, you may have a visiting nurse. Visiting nurses could be required for somebody who is recovering at home from a major health emergency. For example, a client who recently had a stroke or heart attack, or even pneumonia, would have been discharged from the hospital to continue recovering. A visiting nurse may be required to administer medications, check vital statistics, and report that information back to the doctor to ensure that recovery is on track.
Physical therapists may be necessary to assist people in regaining strength after surgery, stroke, heart attack, or number of other ailments. An occupational therapist may also be necessary for individuals recovering from a stroke.
Because of the incredible benefits that home care services offer seniors to help them age in place, make full recoveries at home after health emergencies, and other factors, it's a good reason why the demand continues to increase year after year.
If you or an aging loved one are considering hiring home care services near Clark, NJ, call the caring staff at Helping Hands Home Care today at (908-418-4299).
Providing Home Care Services in all of Northern and Central NJ, including Clark, Westfield, Cranford, Scotch Plains, Rahway, Linden, Summit, Edison, Elizabeth, Mountainside and the surrounding areas.
Latest posts by Robert D'Arienzo
(see all)