Senior Care in Mountainside NJ
Teenagers and young adults are no longer the only ones using technology, but senior citizens are becoming increasingly tech savvy. A 2012 Pew Research Center study reported that 59 percent of adults over the age of 65 use the internet, while 77 percent have a cell phone. Older adults who are receiving senior care have especially turned to technology in order to keep them safe while living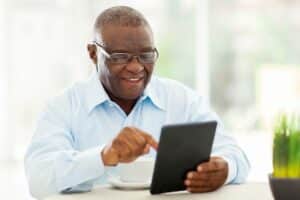 alone.  Although caregivers are still necessary to help elders receiving in-home care with household chores, meal preparations, hygiene needs and other day-to-day tasks, there are numerous apps available to make life easier, from grocery shopping to medication tracking apps.
Types of Technology Seniors Should be Using
Technology today goes way beyond cell phones and desktop computers; there are a variety of handheld, portable devices that the older adult can use from any room in their house or on-the-go. So, what types of gadgets should your loved one be using? Here is a list of the top devices:
Hearing aids: Hearing aids have come a long way from years ago when these devices were bulky and very noticeable. Today, they are small, discrete, and can even be implanted into the ear, boosting the elder's hearing without bringing attention to the hearing aids.
Tablets: IPads and tablets are lightweight, easy to use with the touch of the screen, and the text can be adjusted to cater to the eyesight needs of your loved one. Thousands of apps can be downloaded to keep them engaged, including learning, brain games, and language learning apps. Seniors will also be able to easily flip through pictures and videos by using this device.
Skype: This technology is a great way for older adults who are accepting elder care to stay connected with family members who may not live nearby. Their loved ones will be able to speak to the elder, while also getting to see their face by using this software. Most laptops and tablets have web cams built in, but if not, a web cam will need to be purchased.
WiFi: Wires are a thing of the past. Most gadgets no longer need to be plugged in to get internet access, allowing seniors to bring these devices with them wherever wireless internet is available.
GPS: This device is especially needed for elders with dementia who tend to wander. If this is a concern of yours, a GPS can be used to track the elder's location down and will promptly alert the caregiver when the elder leaves the area. A GPS tracker can be attached to their shoes or clothing. Also, GPS tracking apps can be added to their smart phone to help the caregiver find their whereabouts.
Home assistive devices: There are a wide variety of devices available for the senior's home in order to give them their independence, while staying safe, including medication dispensing devices, stove shut-off systems, and photo-enhanced phones.
Elders who are getting senior care often want to hold on to their independence as long as they can. Now, by using these devices and with the help of a caregiver, they can.
If you or an aging loved one are considering hiring senior care services near Mountainside, NJ, call the caring staff at Helping Hands Home Care today at (908-418-4299).
Providing Home Care Services in all of Northern and Central NJ, including Clark, Westfield, Cranford, Scotch Plains, Rahway, Linden, Summit, Edison, Elizabeth, Mountainside and the surrounding areas.
Source
Smith, Aaron. Pew Research Center. "Older Adults and Technology Use." April 3, 2014.
Latest posts by Robert D'Arienzo
(see all)