Home Care near Westfield, NJ can Help Your Elderly Loved One Better Understand their Health Information.
The object of this worldwide awareness event is to promote the importance of people being able to understand their health information. There are many events held through communities, health organizations, government agencies, health literacy coalitions, universities and more. Some of these activities may include workshops for health professionals, educational classes for students of all ages, wellness programs for the public.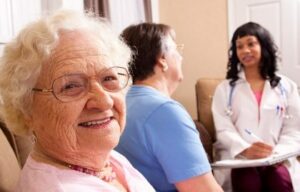 The 2014 theme for this month is "Be a Health Literacy Hero." It's all about empowering the regular person to take action and find ways to improve communication in the health field. These heroes can be organizations, teams or individuals. Health literacy problems need to be both identified and solved.
Why take an interest in health literacy?
There are many who experience great troubles when trying to understand information about their health
It's estimated that 90% of Americans have issues with health literacy
Health literacy is essential because it helps empower you to get the information you need
Helps you make good decisions when it comes to your health
Consequences of limited health literacy
Difficulties filling out complex medical forms
Inability to know what your health history is
Reduced capacity to manage a chronic disease
Limited understanding about getting important screening tests
Difficulties understanding how to take some medications
How to take action for your own personal health literacy
Write things down for your doctor before you even go to the appointment, including a list of your symptoms, when they started
Bring a list of all the current medications and supplements you are taking
Bring paper to take notes on what the doctor might say
Ask your doctor or nurse to use language familiar to you, or write down their information
Ask questions whenever something isn't crystal-clear
If you should have any questions once you arrive home, make sure you know who it is you should call
How to take action in the community
Go to your public or university library and ask where to find relevant health information
Ask what health classes are available through the public library system
Attend health fairs in your community as well as health education classes that might be offered. If there are no such programs, request them
Find out if local schools teach proper hand washing techniques to their student population. If not, request they be taught these and other pertinent health messages
It's very common for elderly persons to have a low health literacy. It wasn't as accepted in the older days to talk frankly with your doctor or health professional. The elder person isn't accustomed to speaking first or asking questions to their doctor. They also may be a little intimidated and shy about speaking up. Your loved one's in-home care provider can go to appointments with your loved one and take notes and help by asking questions and writing down the doctor's answers.
If you or an aging loved one are considering hiring home care services near Westfield  NJ, call the caring staff at Helping Hands Home Care today at (908-418-4299)
Providing Home Care Services in all of Northern and Central NJ, including Clark, Westfield, Crawford, Scotch Plains, Rahway, Linden, Summit, Edison,Elizabeth, Mountainside and the surrounding areas.
Latest posts by Robert D'Arienzo
(see all)