Write a review for Helping Hands Homecare, Inc.
Customer Service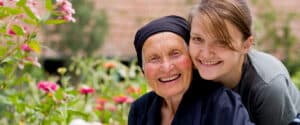 As a family owned and operated organization, we like to treat our customers and caregivers as an extension of out family.  We prefer to offer our clientele the opportunity to speak with a highly trained individual 24 hours a day / 7 days a week in regards to the many aspects of the care we provide.
We understand that when it comes to health issues or problems which may arise that they can happen at any time and Helping Hands is always there for you.  Whether there is an emergency, a family problem, or a family needs to start or change services, Helping Hands will be there for you no matter what of the week or Holiday it might present itself on.  In addition, we offer a great deal of flexibility when arranging services for our new clients.  Helping Hands expects that in today's world people have many responsibilities and sometimes have limited hours that can meet with or discuss issues regarding your loved ones care.  That is why we make ourselves available during evening hours and weekends to just get the job done.  You can always count on us to be there.
Our Care is Helping
We provide a care solution, not just caregivers. To do that, it takes a coordinated team that can solve challenges as they arise, communicate with family members and evolve the care over time. Read testimonials from our numerous clients below: