Senior Care near Rahway, NJ – Wearable Health Sensors
Technology is changing for the better in health care, with new sensors on the market today to monitor patients and send information to their physicians in real time. Caregivers can relax, knowing their loved ones' health is being monitored around the clock with sensors that contain many helpful features. If you want to use a monitor for your parent's health, you can look for these options: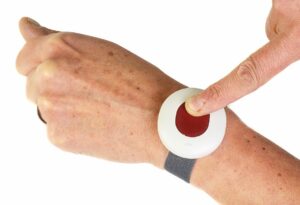 Blood Pressure Monitoring
Heart Rate Monitoring
Current Pulse Rate
Temperature
Detection Safety Features
Safety Features
Seniors who want to remain in their homes following an illness or accident can benefit from knowing they can remain in their homes, with hour by hour monitoring from their wrist sensor. Loved ones with a history of seizures are monitored with the sensor technology around the clock, in the event of a seizure, detection technology will automatically notify physicians, who can summon help. Loved ones with a history of heart disease are monitored as well. In the event of a heart attack, detection technology will automatically notify emergency responders, offering a much faster response. Safety features built into sensors will save lives in the event of a serious emergency.
Getting your parent set up with a monitor isn't too difficult or expensive. What's even better than technology alone is to have the added safety and assistance you can get from hiring senior home services for a real person to be with your parent during the day. A caregiver can help your parent with dressing and cooking, as well as give them company while living alone.
Vital Sign Monitoring
Vital sign monitoring offers the most valuable information to physicians monitoring patients. Blood pressure readings indicate whether a patient is in immediate danger with an extremely high blood pressure reading. Physicians will immediately summon help, through wrist sensor monitoring devices, as this could indicate an impending stroke. Patients who are at risk should have vital sign monitoring, such as that offered by wrist sensor technology, especially for those living alone. Even if your parent lives with you, a spouse, or has regular visits by a caregiver, a monitor is never a bad idea.
Fall Detection
Falls are the main reason for seniors losing their independence: countless incidents of falls have led to serious injuries requiring nursing home care. Sadly, many seniors face serious loss of mobility due to complications following a fall. Fall detection technology built into wrist sensors will summon for help immediately.
Caring for aging parents while maintaining a career can be stressful, leaving family members with a sense of guilt for not being present in a time of need. It is recommended to use technology in conjunction with the human touch of a caregiver. While technology helps to monitor vital signs, it doesn't give hugs or reassurances.
If you or an aging loved one are considering hiring elder care services near Rahway, NJ, call the caring staff at Helping Hands Home Care today at (908-418-4299)
Providing Home Care Services in all of Northern and Central NJ, including Clark, Westfield, Crawford, Scotch Plains, Rahway, Linden, Summit, Edison,Elizabeth, Mountainside and the surrounding areas.
Latest posts by Robert D'Arienzo
(see all)