Home Care in Linden NJ
One of the biggest benefits of home care for elderly adults is the relationship they form with their in home health care provider. This relationship not only supports better mental and emotional health for your aging parents, it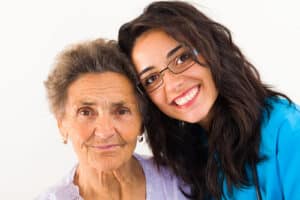 makes them more likely to comply with the medical guidelines, treatments, and assistance activities they need to ensure they live an active and healthy lifestyle.
Supporting your elderly parents' relationship with their home care provider is very important to ensuring they get the highest quality of care possible and enjoy the quality of life you feel they deserve. As with any type of professional relationship, however, it is important to make sure that your parents maintain an appropriate relationship with this provider. Getting too close to the provider can reduce the professionalism of the care provided and produce feelings of dependence and reliance from your elderly parents.  This makes it emotionally difficult for them if the care relationship with that particular in home care provider must end.
Being a family caregiver for your aging parents is often a delicate balance of encouraging your parents to be as independent as possible and make their own choices, and doing what you know is right for them even if it is challenging.
Here are some tips for determining if your parents' relationship with their in home health services provider is too close:
• Using familial names. What a care provider calls your aging parents is a major indication of the closeness of their relationship. It is expected that this name might change over the course of the care relationship, often going from "Mr." and "Mrs." to being on a first name basis. Take note, however, if the care provider begins calling your parents by a too-familiar name such as "Mom" and "Dad" or by a nickname.
• Lacking professionalism. Seniors who are particularly close to their home care providers may have a more difficult time enforcing professionalism guidelines with those providers. They might even tell the provider it is ok to show up later in the day, take long breaks, or leave early. Pay attention if your parents' provider is not following her schedule or your parents are asking you to take on responsibilities the care provider should.
• Casual behavior. You want your elderly parents to feel comfortable with their care provider and for that care provider to feel comfortable with your aging parents, but this comfort should not come at the sacrifice of appropriate care. Take note if the in home health care provider comes to work not wearing her uniform or scrubs, spends a considerable amount of the day relaxing and snacking with your parents, naps during the day, takes her shoes off while working, stops care activities to take personal phone calls, or listens to inappropriate music while providing transportation .
• Dependence. You can expect your elderly parents to develop some level of dependence on their care provider; after all, that is why you hired her. You want your parents to trust that she is there to provide the assistance and care they need to be safe, healthy, comfortable, and happy. If your parents feel anxious or panicky when the care provider is not around or insist on everything being done a particular way because that is the way the care provider does it, they may have become too attached.
Talk about your concerns with your elderly parents and do not hesitate to get in touch with the elder care agency to discuss the care provider and get suggestions for how to promote a beneficial relationship.
If you or an aging loved one are considering hiring home care services near Linden, NJ, call the caring staff at Helping Hands Home Care today at 908-418-4299.
Providing Home Care Services in all of Northern and Central NJ, including Clark, Westfield, Cranford, Scotch Plains, Rahway, Linden, Summit, Edison, Elizabeth, Mountainside and the surrounding areas.
Latest posts by Robert D'Arienzo
(see all)