Caregiver in Westfield NJ
After a fall, your loved one may find herself in a situation where she needs to have surgery on her hip, either to repair the damage or to replace her hip altogether. The entire process can be scary,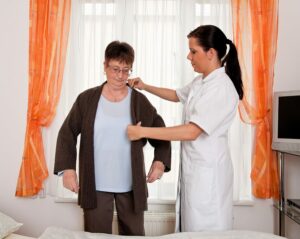 for you and for her, so it helps to have an understanding of what to expect before and after surgery. Your loved one's doctor can give you details, but here are some tips that can help.
Before Hip Surgery
Before the surgery, your loved one is likely to be in a good bit of pain depending on the nature of her injury. She may also need extra help from senior care providers and other family members, especially if she can't move well on her own due to her injury. As a family caregiver, you'll be busier than usual because you'll need to make sure that pre-surgical requirements and appointments are met. It's also a good idea to make sure that you have some extra meals in the refrigerator or freezer. If you need transportation for your loved one to the surgical center, make sure to set that up ahead of time.
After Hip Surgery
Once the surgery is over, your loved one will have specific instructions from her doctor. It's important to make sure that your loved one follows those instructions so that she can heal properly after the surgery. Depending on the extent of the surgery, your loved one may need specific medications given on a particular schedule. Make sure that you and anyone else who is helping you has a full list of your loved one's care instructions.
Recovering from Surgery
After the immediate healing, your loved one is going to need additional assistance. Your loved one's doctor is likely to recommend physical therapy in order to help her heal. It might be tempting to skip physical therapy, especially if your loved one isn't excited about going, but it's essential for her to regain her strength and to be able to do all of her favorite activities again. If your loved one's recovery is especially difficult, she may also be dealing with other situations such as a catheter or a follow up surgery.
Knowing what to expect from hip surgery can help you to make sure that your loved one recovers quickly.
If you or an aging loved one are considering hiring caregiver services near Westfield, NJ, call the caring staff at Helping Hands Home Care today at 908-418-4299.
Providing Home Care Services in all of Northern and Central NJ, including Clark, Westfield, Cranford, Scotch Plains, Rahway, Linden, Summit, Edison, Elizabeth, Mountainside and the surrounding areas.
Latest posts by Robert D'Arienzo
(see all)