Elder Care in Elizabeth NJ
There is a revolution happening in elder care and it is going to change the dynamics of in-home care forever.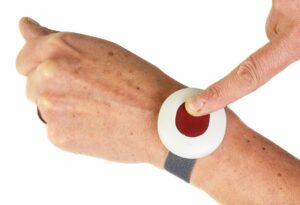 It all started with the simplest of concepts that created an emergency assistance device with a button used to call for help. Few can forget the elderly woman shown on the floor stating, "I've fallen and I can't get up," in the television advertising campaign. With the push of a button, emergency personnel came to help.
The company that invented the system (and all the imitators) recognized the need for technology to come to the aide of seniors living at home. They combined a 24-hour response system with a simple wireless device, which allowed communication that was incredibly innovative at the time of its introduction. The "medical alert" industry was rewarded with hundreds of millions of dollars and the product/service is still sold today.
Get ready for the next phase that experts at Statistica say will exceed a marketplace worth over US$12 billion per year by 2018.
New wearable healthcare devices will no longer be the simple push-button things of the past. The new devices will send healthcare information through wireless connections without the need for patient's participation. Privacy provisions guard the security of the patient's healthcare status. Real-time healthcare information is automatically collected by the devices for use in ways most beneficial to patients.
Examples are:
Blood Sugar Levels – Critical monitoring of blood sugar levels for patients with diabetes. The system can notify pre-approved persons and health care providers of blood sugar levels that are not in the safe range.
Soiled Adult Diapers – Monitors of moisture content in adult diapers automatically notify elder care providers of the need to change adult diapers.
Changes in Heart Rate – Unusual heart beat patterns or evidence of a heart attack occurring is transmitted to those who can help in real time.
These are just a few of the thousands of applications of wearable healthcare technologies that will come to market in the next few years.
The miniaturization of electronic components and increasing innovations in low-cost wearable technology encourage terrific applications that have immense potential to improve healthcare. For younger people, it can be the new watch from Apple that monitors the heart rate and pulse while exercising. However, for older people, especially those receiving healthcare as in-home services, this new wearable healthcare technology may be a lifesaver.
Wearable Tech notes that patient acceptance of such devices is very high. Some 81% of those who responded to a survey said they would prefer more wearable healthcare technology. For health care providers, especially those who provide senior care or elder care, these non-invasive systems let them stay in touch with patients and give alerts when something is out of the ordinary.
If you or an aging loved one are considering hiring elder care services near Elizabeth, NJ, call the caring staff at Helping Hands Home Care today at 908-418-4299.
Providing Home Care Services in all of Northern and Central NJ, including Clark, Westfield, Cranford, Scotch Plains, Rahway, Linden, Summit, Edison, Elizabeth, Mountainside and the surrounding areas.
Source
Facts and statistics on Wearable Technology
http://www.statista.com/statistics/259386/us-consumer-interest-in-wearable-computing-devices/
Research: Patients want more wearables in healthcare
http://www.wearabletechnology-news.com/news/2015/aug/11/research-patients-want-more-wearables-healthcare/
Latest posts by Robert D'Arienzo
(see all)