Caregiver in Clark NJ
Family is one of the most important parts of a person's life. Having people to rely on for support can be very comforting for most people, especially elderly parents. However, having an aging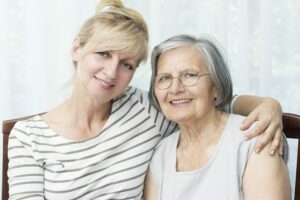 parent to care for can be overwhelming. Trying to handle both the needs of a family and an elderly parent can become a bit stressful at times. Creating the right balance between these two worlds will not happen overnight, especially in the beginning.  Here are a few ways to make the adjustment go smoothly.
1.  The role reversal adjustment
The biggest adjustment that most children will have to make when caring for an elderly parent is the role reversal that happens. Most children are used to their parents taking care of them and are a bit dumbfounded when these roles change. This shock is something that should be short lived due to the stress it can impart on both the child and the parent. Understanding that life is ever changing will help the child of an elderly parent see what has to be done and what their new role should be.
2.  There may be anger
Many seniors are fiercely independent and this can cause friction when they have to ask their children for help or when adult children offer their help. Mustering up the courage to ask for this help can be hard for a senior and may make them feel resentful or angry. As the adult child of a senior parent, it is wise to expect this anger to be misdirected. Letting an angry outburst by a senior pass by without comment should be the strategy of any adult child. Usually, a senior parent will apologize later on. This should be viewed as part of a senior's adjustment phase and should not be taken personally by any means.
3.  Don't do it alone
Hiring a reputable and experienced home care provider can make things so much easier on everyone involved. Elderly care professionals will be able to take some of the stress and worry off of the senior's children by providing their parent with the care they deserve. In-home care givers help with every day activities like dressing, bathing, cooking, and light housekeeping. They provide companionship, run errands, and can even transport the senior to and from doctor appointments and other outings.
4.  Take time out to have fun
Getting too stressed out about giving the right care to an aging parent can be dangerous for a person's health.  One of the best ways to get rid of this stress is by taking time out for fun. Going to a movie or concert is a great way to leave the stress behind.  An adult child may also want to think about taking up a hobby like kickboxing or even tennis. Finding ways to remove some of the stress that an adult child feels is an essential part in them maintaining their sanity throughout the family care giving process.
If you or an aging loved one are considering hiring caregiver services in Clark, NJ, call the caring staff at Helping Hands Home Care today at 908-418-4299.
Providing Home Care Services in all of Northern and Central NJ, including Clark, Westfield, Cranford, Scotch Plains, Rahway, Linden, Summit, Edison, Elizabeth, Mountainside and the surrounding areas.
Source
http://www.huffingtonpost.com/john-shore/elderly-parent-caregivers_b_823443.html
Latest posts by Robert D'Arienzo
(see all)