Elder Care in Mountainside NJ
More sons and grandsons than ever are on elder care journeys with their aging loved ones, which means the community is seeing a boom in male caregivers. While it is a wonderful thing that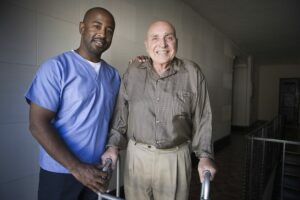 these men are stepping forward to take on the role of being family caregivers and dedicating their time, energy, effort, and selves to making sure that their elderly loved ones get the support, care, and assistance they need to give them a consistent high quality of life, it is important to recognize that the experience may not be the same for them as it is for their female caregiving counterparts.
With all of the research and investigation into the different ways that men and women perceive and manage situations, it is important to ask yourself, is the elder care journey really different for male caregivers?
By recognizing the differences in how a male caregiver may approach the challenges of giving care to elderly family members, both you and those around you can modify the care plan and seek out the needed support and assistance to ensure that your parents get the level of assistance and support that they need, and that you are confident in your role throughout their aging years.
Some things to keep in mind when it comes to an elder care journey being different for a male caregiver include:
• More logic-based. Research indicates that male caregivers tend to approach the needs of their aging loved ones from a more logical and strategic place than female caregivers, who tend to look at the situation from an emotional perspective first. This means that you are more likely to look at exactly what your parents need, the most logical and "practical" way to handle those needs, and how quickly you can implement it. You may want to take some time to evaluate the emotional consequences of not only these needs, but of the care choices that you make so that you ensure you are keeping your parents' mental and emotional wellbeing in mind when making care decisions.
• Sensitive tasks. Women tend to be more able than men to accept potentially sensitive tasks and handle them without emotional response. This comes largely from the tendency for women to have nurturing compulsions and be accustomed to being hands-on with sensitive care tasks for children and others. You may find it more difficult to approach the idea of helping your mother bathe or use the toilet, but it may not bother you as much to help your father. If you have difficulty with these tasks, do not feel guilty. Many family caregivers, both male and female, hire elderly health care services providers specifically for the purpose of handling these and similar tasks because they are too emotionally challenging to handle.
• Stigma. Though things are changing, there is still a social perspective that family caregivers are women, and that men do not have the capacity or the willingness to take on this role. Do not allow this to discourage you. Take on the role with energy, love, and dedication, and insist on respect and recognition from others within the community. Seek out a support group for men in your role, or join one with men and women so that you can discuss your challenges, find encouragement, and seek out help.
If you or an aging loved one are considering hiring elder care services near Mountainside, NJ, call the caring staff at Helping Hands Home Care today at 908-418-4299.
Providing Home Care Services in all of Northern and Central NJ, including Clark, Westfield, Cranford, Scotch Plains, Rahway, Linden, Summit, Edison, Elizabeth, Mountainside and the surrounding areas.
Latest posts by Robert D'Arienzo
(see all)