One Family Caregiver's Story in Clark, NJ: Learn What to Do when You Just Need a Break
It has only been two months but it feels like three years since you agreed to be your mother's caregiver. You had talked to her about hiring a professional in home care provider, but she was reluctant and since you were concerned about her safety and well-being, you decided that it would be best for you to provide home care for her.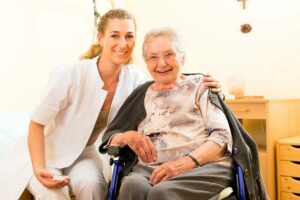 You have a full-time job and other responsibilities, but you figured that being there for her was far too important and not something that you should take lightly. What you didn't expect was the feeling of being overwhelmed at times with the work.
Now it's obvious that you just need a break, even for a week, from your role as a caregiver.
If you are feeling overwhelmed, and you feel that you need a break, it is time to get one as soon as possible. Telling yourself that you need to just get over it or accepting what other people say in the same vein can have dangerous consequences.
When you are feeling overwhelmed as a caregiver, the quality of care you provide will decrease. You might not realize it at the time, but when you are overwhelmed, stressed out, and anxious about your other responsibilities, your mental focus is not the same. When that happens, you may overlook signs or problems that begin to arise that could indicate a potential emergency on the horizon.
When you feel overwhelmed, sit down and talk to your elderly loved one or the patient for whom you care about hiring another in home care provider for a short period of time. You may suggest that she or he hire an in home care provider for one or two days a week. You may need a week or two off and will be refreshed and recharged at that point.
If the patient doesn't agree to this, then let him or her know that you absolutely need to take time off. Explain that they will be alone if they don't have someone else coming to work with them. There may be family members who are available to assist in the situation. Speak to them.
If you don't get time off or the break when you need, this can increase the chances of a problem for the patient. When you realize that you need a break from being a caregiver, then you need to take that break as soon as possible. It is your mind's way of telling you that a potential problem exists and you need to deal with it as soon as possible.
Remember being a caregiver is a huge responsibility, and you are human, speak up and take a break to avoid a decline in the quality of care you are providing.
If you or an aging loved on need a break from caregiving in Clark NJ, call the caring staff at Helping Hands Home Care. 908-418-4299 .
Providing Home Care Services in all of Northern and Central NJ, inluding Clark, Westfield, Crawford, Scotch Plains, Rahway, Linden, Summit, Edison,Elizabeth, Mountainside and the surrounding areas.
Latest posts by Robert D'Arienzo
(see all)