Caregiver in Mountainside NJ
No family caregiver is truly immune from dealing with caregiver stress and you could feel that you've been doing this long enough to avoid it. You've got a self-care plan in place, perhaps, but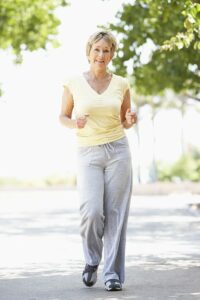 you're still experiencing signs of stress. Try some of these more advanced techniques.
Set Some Personal Health Goals for Yourself
It's one thing to know that you need to exercise or start eating better, but it's another thing entirely to actually set a goal that is a reasonable, attainable goal. Once you put some method of quantifying your goal in place, you can actually start to track how well you're doing. So start with what you want to accomplish, which might be something along the lines of tracking all of your meals for the next week. Choose a way to reward yourself if you meet that goal. Then, you can set another goal for yourself, which in this case might be swapping out high sugar snacks for a serving of fruit.
Be Realistic with Yourself about What You Can Do
One trap you might fall into as a family caregiver is the one in which you start to think that you can accomplish some of your larger goals in a much shorter period of time than is realistic. Prioritize your tasks and your goals and break them down into smaller steps. You can even start tracking your time so that you can get a super realistic idea of how long certain tasks take you. Then you can estimate your goals more accurately.
Investigate Your Respite Care Options
A common reason that family caregivers find themselves dealing with incredible amounts of stress is that they don't always allow themselves to truly take any time away. Start looking at what your options are for respite care. You may have other family members who can help you quite a bit. Some other caregivers may find themselves in a position of having much less help from friends and family, but able to take advantage of senior care providers. Take a look at what the right options are for you. It might just be a mix.
Consider Taking Some Leave if You Can
If you're a family caregiver who works outside the home, your job can feel even more difficult than the average family caregiver's job can be. One option that you might want to investigate could be taking some time away from work. Depending on your situation, a sabbatical might be possible or you might qualify to take time away under the federal Family and Medical Leave Act. You'll need to investigate all the options to figure out what will work best for you.
Try combinations of different strategies until you find the solution that works the best for you and for your elderly loved one.
If you or an aging loved one are considering hiring

caregiver services in Mountainside, NJ

, call the caring staff at Helping Hands Home Care today at 908-418-4299. Providing Home Care Services in all of Northern and Central NJ, including Clark, Westfield, Cranford, Scotch Plains, Rahway, Linden, Summit, Edison, Elizabeth, Mountainside and the surrounding areas.
Latest posts by Robert D'Arienzo
(see all)