Elderly Care in Scotch Plains NJ
October is National Cyber Security Awareness Month. As a family caregiver this is the ideal opportunity for you to help your parent understand the potential risks that the internet can pose. This can help them to take advantage of all of the wonderful opportunities that the internet can offer to your elderly parent, but do so safely and securely.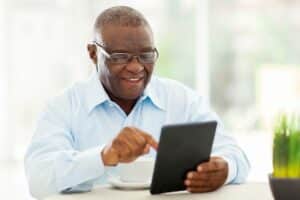 Top tips for helping your parent to stay safe and secure during National Cyber Security Awareness Month and throughout the rest of the year include:
Choose effective passwords. Passwords are your parent's first line of defense against hackers and other potential issues. It is extremely important that your elderly loved one puts as much thought as possible into choosing their passwords. They should choose complicated passwords that contain letters, numbers, and special characters, and make sure that they are not easy to guess. They should choose a different password for each account to provide the greatest security.
Ensure mobile devices lock. If your parent has a phone or tablet, make sure that it is set up to lock when it has gone for several minutes without activity. They should also require a form of verification to unlock the device. If possible, set a form of verification that is more advanced that a simple 4-digit code. This will keep unauthorized users from accessing the device.
Never click links in emails. Gone are the days when it was easy to identify fraudulent emails. Hackers and other cyber criminals are now sophisticated enough that they are able to mask emails and make them look completely legitimate. Your parent might open an email that appears to be from their banking institution, insurance company, the IRS, or some other official capacity, but it is actually fraudulent. The message might claim that there is a problem with their account that they need to fix, or that the organization is running a security check, or some other excuse, and your parent will be instructed to click a link to access their information. They should never click such links. Regardless of how official the email looks, they should always sign in to their account through the official website of any potentially sensitive company to avoid opening themselves up to fraud, viruses, and other serious issues.
Starting elder care can be a fantastic way to encourage your aging loved one to stay as active and engaged as possible throughout their later years while also remaining safe and secure. An elderly home care services provider can evaluate your aging parent's challenges and limitations and provide personalized services tailored to their individual needs in a way that is supportive, encouraging, and respectful. This means that they are able to handle their issues effectively so that they can stay active, engaged, and independent while also ensuring that they are protected. When it comes to helping them stay safe online, this care provider can help your parent enjoy the opportunities that the internet provides to keep them connected, informed, and entertained, while also helping them to understand and avoid the risks.
If you or an aging loved one are considering hiring

elderly care in Scotch Plains, NJ

, call the caring staff at Helping Hands Home Care today at 908-418-4299. Providing Home Care Services in all of Northern and Central NJ, including Clark, Westfield, Cranford, Scotch Plains, Rahway, Linden, Summit, Edison, Elizabeth, Mountainside and the surrounding areas.
Source:  https://heimdalsecurity.com/blog/security-experts-roundup/
Latest posts by Robert D'Arienzo
(see all)