Home Care in Rahway NJ
Does your aging parent want to live out the rest of their life in their home? If they are like most seniors, then they probably do. Thanks to home care, this is an option for many older adults. This type of care includes a professional home care provider who can offer the elder daily assistance with tasks that have become too difficult for them to do. Whether it is bathing and toileting or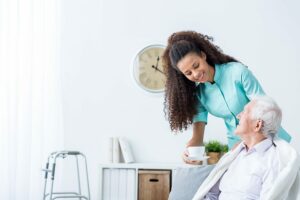 chores and laundry, this caregiver can help make your loved one's life a lot easier. Not to mention the caregiver will also remind the elder of when it is time to take their medications.
If you are trying to determine what the best care option is for your loved one, here are several reasons why home care should be at the top of your list.
Inexpensive. Older adults who are on fixed incomes especially appreciate how affordable this option is. The reason for the low cost is because the senior is not obligated to sign a monthly or yearly contract, which will save them a bundle. That being said, the cost does depend on how much care the elder will need. In order to find out whether or not this is a viable option, make a list of all of the things your loved one will need a caregiver to help with in order to determine how many hours the caregiver will be needed for.
Fosters quicker healing. Seniors who are hospitalized take longer to heal than those who are getting cared for at home. This is because the elder will be surrounded by family and friends during this time in their life, which will allow them to socialize and have the companionship they need, but are unable to receive in a hospital setting. Socializing has been linked to a lower risk of depression.
One-on-one care. The elder care provider will only have one patient to care for, allowing your loved one to receive the personalized care and attention they need. The services will be specialized to fit the unique needs of the elder and offers a more flexible care plan.
Being surrounded by their home. The elder may feel more at ease and comfortable if they are surrounded by their only belongings, pictures, and other items throughout their home. Home care can be used to help the elder quickly recover from surgery or a medical condition, while offering them some tranquility knowing that they are in the same home they have been in for many years.
Home care can be an extremely beneficial caregiving option. Discuss it with other family members and the elder to make sure everyone agrees that this is the best option for your loved one.
If you or an aging loved one are considering hiring

home care in Rahway, NJ

, call the caring staff at Helping Hands Home Care today at 908-418-4299. Providing Home Care Services in all of Northern and Central NJ, including Clark, Westfield, Cranford, Scotch Plains, Rahway, Linden, Summit, Edison, Elizabeth, Mountainside and the surrounding areas.
Latest posts by Robert D'Arienzo
(see all)