Elderly Care in Summit NJ
Have you noticed that your aging parent does not seem to be eating like they once did? It is not all that uncommon for seniors to lose their appetite, but it could lead to malnutrition and other health problems if the elder is not quickly treated for their eating problems.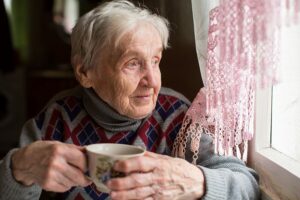 There are a wide range of reasons older adults may not be eating well, including the following:
Eating alone. If your loved one lives by themselves, they may not see a point in preparing a healthy meal for one. You can help by eating more meals with the elder. Not only will this give your loved one the motivation they need to eat well, but will also allow them to socialize, which has been shown to have a profound impact on the mind and memory of seniors. If your loved one is lonely, an elderly care provider can keep them company, while also giving them someone to eat with every day.
Dry mouth. Older adults with dry mouth may have lost their appetite because the lack of saliva production may cause them to have a choking sensation when trying to chew and swallow. By drinking between 8 and 10 glasses of water per day and taking a sip of water between each bite, the senior will be able to eat much easier. Sauces and salsa may also help by adding moisture to their meals.
Problems chewing. Difficulty chewing is a problem that many seniors face. However, you can make mealtime much easier by combining their favorite fruits, yogurt, and protein powder into a smoothie. Soups and broth may also provide some nutrients for your loved one without needing to chew. Soft foods may also help, like steamed veggies, rice, yogurt, and couscous.
Dislike of healthy food. Perhaps the reason your loved one has lost their appetite is because they do not find healthy food appetizing. If this sounds like your parent, try adding fresh herbs to their meals instead of salt in order to add flavor without unhealthy sodium. Also, encourage the senior to make small changes in order to slowly begin eating a healthy diet. They may want to start by adding a salad to their meals at restaurant instead of fries. Also, ask them how they feel after their healthy meal. They will probably begin to notice a change in their energy level and how their body is working.
If you or an aging loved one are considering hiring elderly care in Summmit, NJ, call the caring staff at Helping Hands Home Care today at 908-418-4299. Providing Home Care Services in all of Northern and Central NJ, including Clark, Westfield, Cranford, Scotch Plains, Rahway, Linden, Summit, Edison, Elizabeth, Mountainside and the surrounding areas.
Source:
https://www.helpguide.org/articles/healthy-eating/eating-well-as-you-age.htm#obstacles
Latest posts by Robert D'Arienzo
(see all)