Elderly Care in Westfield NJ
If you accompany your elderly loved one on their doctor's appointments, it is a great idea to bring a few things along to help ensure that your loved one gets the best care possible.  Here is a list of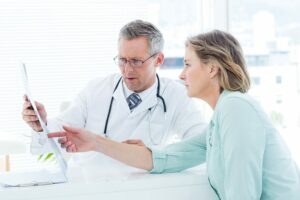 some things that are very helpful to bring along to a doctor's appointment, especially when your loved one is visiting a new doctor or specialist or going to the emergency room.
List of Medications or Medication Bottles
If your loved one is using multiple medications, it is important for their health care provider to be aware of what they are taking.  If it is convenient, bring the original bottles along with you, or make a lift of every medication your loved one is taking and be sure to include the dosage.  When you have this information to show to the doctor, it can help them when deciding which new medications to prescribe and it can help in determining the cause of certain symptoms.
List of Supplements or Over-the-Counter Medications
Just because a medication is not a prescription doesn't mean that it can't have interactions with other drugs.  In addition to your list of prescription medications, it is also a great idea to bring along a list of any over-the-counter medications, supplements, vitamins, or even herbal remedies that your loved one is using.
A Medical Card
A medical card that includes medical information such as past surgeries, medical conditions, medication allergies, the name of your loved one's primary care physician, etc. is a great item to bring to doctor's appointments.  In addition, a medical card with this information is great for your loved one to carry on their person just in case of an emergency.
Log of Symptoms/Observations
If your loved one has a chronic medical condition, it is a great idea to keep a daily/weekly log of symptoms or changes that you have observed.  Bring your log with you to doctor's appointments so that you can share with them anything concerning that you have noticed in regard to your loved one's health.
List of Questions
Your loved one may have questions that they would like to ask the doctor and you may as well.  Make sure that you do not forget your questions by writing them down in a notebook as you think of them and then bringing it along with you to the appointment.
If you or an aging loved one are considering hiring

elderly care in Westfield, NJ

, call the caring staff at Helping Hands Home Care today at (908-418-4299). Providing Home Care Services in all of Northern and Central NJ, including Clark, Westfield, Cranford, Scotch Plains, Rahway, Linden, Summit, Edison, Elizabeth, Mountainside and the surrounding areas.
Source:  http://www.huffingtonpost.com/leana-wen-md/doctors-appointments_b_2147065.html
Latest posts by Robert D'Arienzo
(see all)