Elderly Care in Elizabeth NJ
Staying physically active is an important part of maintaining physical, mental, and emotional health for you and for your aging loved ones. Doing the same types of exercises over and over, however, can make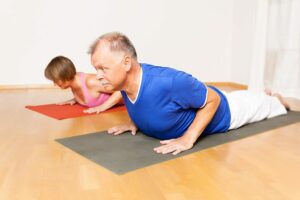 your elderly care plan tedious. This eventually leads to loss of motivation, which means you and your seniors are not going to exercise as often as you should.
The key to keeping physical activity a central and enjoyable part of your elderly care plan is finding activities that are good for your body and that you and our aging parents have fun doing so that you will be happy to continue.
Try some of these innovative exercises to get your seniors active:
• Hula hooping. Channel your inner retro child and get yourself moving with a hula hoop. This piece of equipment is so simple anyone can use it, and versatile enough that you can change up your exercise routine to fit with what you can do. If you can put the hoop around your waist and keep it spinning with the traditional hula, go for it. If you cannot, try swinging it around your neck, swirling it around your arm, or just standing it on its edge and seeing if you can push it all the way across the room. Ask your mother to show off her best hula hoop moves and listen as she tells you stories about her younger days
• Roller skating. Another activity you and your parents may remember from younger days, roller skating is a great cardio workout while also conditioning your muscles, strengthening your joints, and working on your balance. Head to the local skating rink for some fun music and a few laps around the floor in rented skates, or invest in skates for the family and skate around the neighborhood together
• Trampoline jumping. Bouncing, jumping, and dancing on a trampoline are energetic, fat-burning ways to improve your cardiovascular health and strengthen your muscles. While you could invest in a family-size trampoline to set out in your backyard, small individual trampolines bring the workout inside and let you and your elderly parents enjoy a few minutes of exercise whenever you have time. If your seniors have mobility limitations or physical challenges, ensure you or an elderly health care services provider assists them getting on and off the trampoline, and provides stability during their bouncing or jumping by holding their hands
• Baseball. Playing a game of baseball with your active seniors is a great way to laugh and have fun with your elderly parents while also exercising. This game involves twisting, bending, running, and throwing, all of which work different muscle groups and get your heart rate up. Even if you do not have enough friends and family around to put together an entire team, you can get the same benefits with a modified version of the game, playing an active game of catch, or even going to a batting cage for a few rounds of hitting practice.
If you or an aging loved one are considering hiring elderly care services near Elizabeth, NJ, call the caring staff at Helping Hands Home Care today at (908-418-4299).
Providing Home Care Services in all of Northern and Central NJ, including Clark, Westfield, Cranford, Scotch Plains, Rahway, Linden, Summit, Edison, Elizabeth, Mountainside and the surrounding areas.
Latest posts by Robert D'Arienzo
(see all)