Caregiver in Elizabeth NJ
Maybe you don't consider yourself a caregiver because you're actually only taking care of a family member. Maybe it's your elderly mother or father or somebody else. Believe it or not, just because you're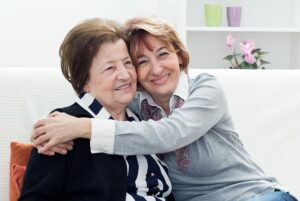 providing some type of care for a loved one at home, that makes you a caregiver.
Don't mistake providing care for an elderly individual with raising children. Those are two completely different things. For the most part, many of the estimated 44 million family caregivers working in this country right now (according to the AARP), most of them are providing those services and that level of care to their loved ones in their loved one's home, rather than having them move into their own.
Maybe you've been taking care of your mother for some time and have a small dog that you love and treat just like family. Most pet owners in the United States understand the emotional connection owners have with their beloved pets. If you have a small dog, you may be inclined to bring it along with you on these excursions to your aging mother's house.  That may seem fine on the surface, but there are certain considerations you should make before doing this.
Safety needs to come first.
Safety is one of the most important aspects of caring for an elderly individual. Your mother's strength may be limited and she might have much less balance than she used to. That little dog might seem to be little trouble to you, but it can cause your aging mother to lose her balance and fall down if she trips over it.  Keep the dog contained and calm so it doesn't get hyper and cause a potential serious trip and fall accident.
Maybe your loved one doesn't want the animal there.
Your elderly mother might be fine with you bringing your dog along, but then again she might not be. If you have not spoken to her about it, now is the time to do so. You may discover she isn't as fond of the animal as you are and feels uncomfortable when you bring it along.
That dog could offer some benefits.
Research has indicated that spending time with pets can help to lower stress and anxiety and possibly even blood pressure readings for aging individuals, especially those who live alone. The companionship that a small and docile animal such as a cat or small dog that isn't too hyper can offer may be tremendous. Just make sure your aging loved one is fine with the situation.
If you or an aging loved one are considering hiring caregiver services near Elizabeth, NJ, call the caring staff at Helping Hands Home Care today at (908-418-4299).
Providing Home Care Services in all of Northern and Central NJ, including Clark, Westfield, Cranford, Scotch Plains, Rahway, Linden, Summit, Edison, Elizabeth, Mountainside and the surrounding areas.
Latest posts by Robert D'Arienzo
(see all)