Elder Care in Westfield, NJ – Living with Multiple Sclerosis
Multiple Sclerosis (MS) can be a debilitating disease. It's an inflammatory condition and thus far there is no cure. A person with MS may be able to improve their symptoms and find some relief by adding certain foods to their diet. If your parent is dealing with this disease, then you should know more about what they can eat to help lessen their symptoms. It can be hard to take care of a parent with MS on a daily basis. You should think about hiring home care for elderly people to make sure your parent's needs are met. The caregiver can help cook and meal plan for your parent to keep them healthy and happy. Here are some suggestions you can make to the caregiver for what to add to your parent's diet.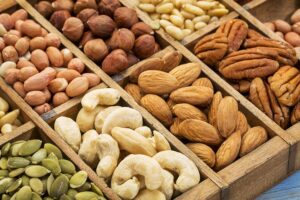 Foods to Help with Senior Health
Walnuts – These nutty snacks are loaded with the good fats your body needs. Walnuts are also filled with health benefits to help fight inflammation such as fiber, anti-oxidants and magnesium.
Flaxseeds – Even though it is a tiny seed, flaxseed is rich in omega-3 fatty acids. It's a great alternative for people who don't like fish and can be eaten in yogurt, cereal, or added to recipes. Flaxseeds are also filled with what's called lignans, which help to battle inflammation. To get the full benefit of flax, it must be ground before consuming.
Some plant-based oils – Heart healthy oils such as olive oil, soybean oil, flaxseed oil or canola oil all filled with anti-inflammatory compounds. The oils are unsaturated fats (good fats) and can help reduce inflammation as well as lower cholesterol. Some medical experts recommend avoiding butter and getting at least 1 tablespoon of olive oil a day.
Avocados – It's touted as one of the world's healthiest food. Avocados are filled with healthy fats and antioxidants. A study done in 2013 showed avocados were loaded with anti-inflammatory properties and are very healthy to eat.
Ginger – This strong and flavorful root has very strong anti-inflammatory compounds. To reap the health benefits, use freshly grated ginger. Ginger can be added to tea or your favorite salad.
Turmeric – This exotic spice found most often in curry also helps to fight inflammation. The yellow compound in this spice is what helps with inflammation problems.
Produce – Eating fresh fruits and vegetables every day is good for your overall health. However, fresh produce is packed with antioxidants and phytochemicals, both of which help lower inflammation.
Fish – For people with MS, good options to add to your diet include fish. It's important to select heart healthy fish rich in omega-3 fatty acids such as salmon, tuna, mackerel and trout.
If you or an aging loved one are considering hiring elder care services near Westfield NJ, call the caring staff at Helping Hands Home Care today at (908-418-4299)
Providing Home Care Services in all of Northern and Central NJ, including Clark, Westfield, Crawford, Scotch Plains, Rahway, Linden, Summit, Edison,Elizabeth, Mountainside and the surrounding areas.
Latest posts by Robert D'Arienzo
(see all)