What We Offer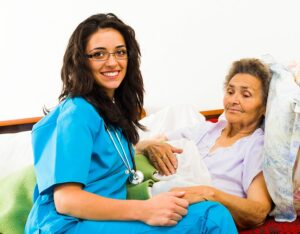 Non-medical senior care is available to meet every budget and need at Helping Hands Homecare in Clark, New Jersey. Hourly and live-in senior care services are available from our certified team of home health aides.
Quality Senior Care
Enjoy the care you need in the comfort of your own home with our qualified Home Health Aides. Your caregiver is available to live with you to provide one-on-one personal services that help you maintain your independence. With individual live-in services, your personal caregiver works with you on a two weeks on, two days off schedule. On their two days off, another aide comes in to assist you.
24-Hour Services
Around-the-clock service includes help with bathing, dressing, and laundry. Your Home Health Aide provides medication reminders and helps you set up and get to doctor appointments. Two levels of non-medical senior care are offered, companion and personal.
Companion & Personal Care
With companion care, you receive help with grocery shopping, laundry, light housekeeping, and have someone to talk to. The personal care option includes medication reminders, exercise, toileting, bathing, and dressing. A registered nurse is always on call for you to talk to, and supervise the Home Health Aide.
Customer Service
As a family owned and operated organization, we treat our customers and caregivers as an extension of our family.  We offer our clientele the opportunity to speak with a highly trained individual 24 hours a day / 7 days a week in regards to the many aspects of the care we provide.
We understand that when it comes to health issues or problems which may arise that they can happen at any time and Helping Hands is always there for you.  Whether there is an emergency, a family problem, or a family needs to start or change services, Helping Hands will be there for you no matter what day of the week or holiday it might present itself on.  In addition, we offer a great deal of flexibility when arranging services for our new clients.  Helping Hands knows that in today's world people have many responsibilities and limited hours to discuss issues regarding your loved ones care,  that is why we make ourselves available during evening hours and weekends. You can count on us to be there.
Dependability
Helping Hands knows that dependability and the quality of our caregivers and staff are deeply integrated.  This is why we only hire individuals that are dependable and provide quality and compassionate care.  In addition, Helping Hands performs many quality control checks on our caregivers and the company is in regular contact with our customers and their families to ensure that their expectations are being met.
Through our great deal of experience in helping many families with a wide variety of needs, we know that our services are not only for the person receiving the assistance but also so their loved ones can have the peace of mind of knowing that our quality caregivers are providing reliable and amenable services while taking a proactive approach to our customers care.  In addition, all of our caregivers are responsible for accounting for the hours they work and the services they performed on any given day.  This is just another one of our quality control measures we use to ensure that you can count on us.