Elderly Care in Clark NJ
Living with a pet, especially a dog, offers its owner love, loyalty, and companionship. Just petting a dog can even relieve any stressful or frustrated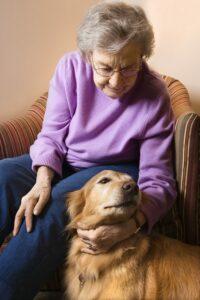 feelings its owner may be feeling. As wonderful as these furry companions can be at boosting moods and removing any feelings of loneliness an older adult receiving elderly care may have, every pet is not right for every senior. Whether you are the caregiver of an elder in need of in-home care or are considering getting a pet for an older family member, here are some factors that need to be considered in order to find the perfect pet.
Health Concerns
Dogs need to be walked daily, which can give older adults a reason to get out into the great outdoors, go for a walk, and socialize with other dog owners. If your loved one has health or mobility issues that make it difficult to go on these daily walks, a dog may be the wrong choice. Even if the senior is able to walk their dog, will they be able to do it 10 years from now? Thinking into the future to brainstorm different scenarios with your loved one will give you an idea of whether or not the animal you want to get them will be too much for the senior to handle.
Health of the animal
Now that we have touched on how important the health of the human is for owning a pet, it is now time to consider the health issues of older pets. Some people choose to purchase an animal that is a few years old because they are calmer than puppies or kittens and some are even potty trained. When the animal is too old, they may need constant maintenance to stay healthy, such as medications and trips to the vet. If the animal does need medication, getting them to take it may take too much energy for an elder to do by themselves.
Expense
Animals are not cheap; they require special food, bedding, toys, collars, leashes, and even fences for people who want to keep their pet confined in the backyard. If you help your loved one with their finances, determine if it is in the budget to have a pet or if it will be too costly to own.
Personality
You have probably witnessed those dogs that are on leashes dragging their owners from one place to another. Not only can an animal with this strength and energy be exhausting for anyone to take for a walk, it can also be extremely dangerous for elders receiving senior care because their bodies are more fragile, causing their bones to break much easier than young adults. Doing a little bit of online research on breeds that are calm and will be easier for your loved one to care for will help you find the right match for your loved one. Speaking with someone from a local animal shelter or organization can also help you decide which breed has a personality that is right for your loved one.
Animals can be extremely beneficial to seniors and with these tips you will be able to find the right one for your loved one.
If you or an aging loved one are considering hiring elderly care services near Clark, NJ, call the caring staff at Helping Hands Home Care today at (908-418-4299).
Providing Home Care Services in all of Northern and Central NJ, including Clark, Westfield, Cranford, Scotch Plains, Rahway, Linden, Summit, Edison, Elizabeth, Mountainside and the surrounding areas.
Source
Lichtenberg, Dr. Debora, VMD. Petful. "It's Time for a Talk About Pets and Elderly People." 8 Aug 2012.
Latest posts by Robert D'Arienzo
(see all)