Senior Care in Rahway NJ
If yours is like most families, you are looking forward to the fun, warmth, and quality time of the Thanksgiving holiday. Being on a senior care journey with your elderly loved ones, however, can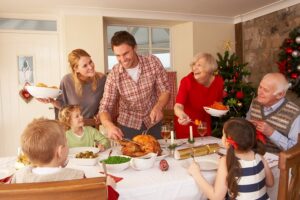 make taking on all of the traditions and responsibilities of Thanksgiving stressful. Your parents may no longer be able to do all of the cooking that they once did or may not have the physical or cognitive ability to host the whole family at their home for the feast. This does not mean, however, that you should give up on making the treasured memories of the holiday season and enjoying your quality time with your family. Simplifying your Thanksgiving feast can ensure that you can still give your aging loved ones the holiday that they deserve while keeping their limitations and challenges in mind.
Try these ideas for simplifying your Thanksgiving feast so that you can fit enjoying a meaningful holiday into your senior care efforts with your loved ones:
• Head to a restaurant. A traditional Thanksgiving dinner may be all about being in the home and spending quality time together, but that does not have to be the way that you celebrate it with your family this year. At the center of a meaningful Thanksgiving is your time with your parents, children, partner, and other family members, and if it would be too difficult for you to do that in your home or your parents' home, head to a favorite restaurant. You will still have the opportunity to be together enjoying delicious food, but you will not have to take on the cooking, serving, or cleanup yourself. Research your area to find out which restaurants are having Thanksgiving dinner, and make reservations so that you can relax and enjoy your holiday together.
• Use premade sides. Every family has those few dishes that are critical to the holiday table, and then a few others that round out the menu. Rather than taking up a tremendous amount of time and effort making all of the sides, focus on the ones that have special meaning for your family or that follow special recipes, and then go ahead and purchase premade versions of the others. Letting your parents make one or two things that they have made for years gives them a sense of importance and relevance in the celebration, while filling the table with premade versions of other, less important dishes saves time, frustration, and effort.
• Have several dinners. There is a big difference between having twenty people over to your parents' home for one main feast and having dinner with five or six people. Thanksgiving is about giving thanks and spending time with the people who mean the most to you, so it does not really matter what day you celebrate. Instead of hosting one Thanksgiving dinner, invite smaller groups over for dinners over the course of a few weeks. Make sure you let the families know about this in advance so that they can make alternative plans for the day of Thanksgiving. Doing this means that you can spend quality time with your family members, focus on specific relatives, and minimize the stress, anxiety, and exhaustion for your seniors.
If you or an aging loved one are considering hiring senior care services near Rahway, NJ, call the caring staff at Helping Hands Home Care today at (908-418-4299).
Providing Home Care Services in all of Northern and Central NJ, including Clark, Westfield, Cranford, Scotch Plains, Rahway, Linden, Summit, Edison, Elizabeth, Mountainside and the surrounding areas.
Latest posts by Robert D'Arienzo
(see all)