Home Care in Elizabeth NJ
The age of technology and the Internet of Things is bringing us a host of electronic wonders that make everything from can opening to car driving a task that can be done more easily and more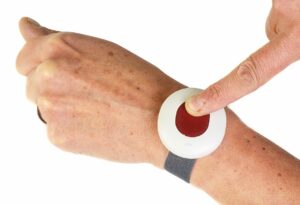 remotely. One of the most useful advancements for in-home care is the ability to communicate across vast distances instantaneously, allowing the creation of alert devices that can be worn and activated in case of a medical emergency. For conditions where activating the alert device may not always be possible or plausible, such as with Alzheimer's or other cognitive diseases, but for many, it can be a handy addition to the care-giving tool kit.
A Network of Assistance
Every caregiver knows that it takes a team of people to cover every possible home care need. A medical alert device serves as an immediate link to emergency medical services, an essential part of that senior care task force. Some models can also be configured to alert a selection of other devices when the button is pressed, so you can keep yourself and other non-emergency helpers informed of any serious situations as well.
Overcoming the Stigma of Home Care
When first transitioning into an elderly care situation, you may meet with a fair amount of resistance from your loved one. The feeling of becoming a burden, however true or untrue, can spur resentment and anger when the subject is brought up for discussion. Just like home care provides a middle-ground between no care and an assisted living facility, a medical alert device is an even shorter bridge to cross that can be an easier situation to adjust to.
Enabling Independence
Incorporating a medical alert device into an existing home care environment can add a new level of independence. When you as the family caregiver would have to be present just in case of an emergency, the device can take over the role of an emergency responder. For elders who are still capable of existing on their own, this freedom from your presence can be just as welcome to them as it is to you.
Putting the Device to Work
Although it would be nice if the medical alert device could cook and clean, those tasks are still left up to you. What you can do is organize your time around the periods when it will be taking on the task of emergency supervision. Instead of staying throughout the day, you might just come over for a visit, dropping off prepared meals and tidying up as necessary. More strenuous activities like doctor's appointments or labor-intensive chores require your presence, but use the device to give your elder time away from their care-giving team.
Too Much of a Good Thing
A medical alert device is no substitute for the care and attentiveness of a family caregiver. Avoid the temptation to let it take over too much of your time with your elder, even if both of you enjoy the time apart.
If you or an aging loved one are considering hiring home care services near Elizabeth, NJ, call the caring staff at Helping Hands Home Care today at 908-418-4299.
Providing Home Care Services in all of Northern and Central NJ, including Clark, Westfield, Cranford, Scotch Plains, Rahway, Linden, Summit, Edison, Elizabeth, Mountainside and the surrounding areas.
Latest posts by Robert D'Arienzo
(see all)