Senior Care in Linden NJ
Gardening is a popular past-time for some seniors. The fresh air provides tremendous health benefits and the actions involved in gardening can help with agility, flexibility and support. But there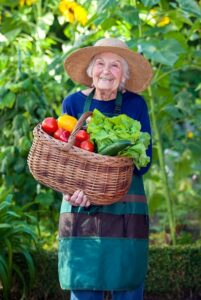 are times when it's just too hard for a senior citizen to get down on the ground to partake in gardening the way they perhaps good when they were younger.
But, take heart—there are a variety of products that can be purchased to make the job easier. Since you're providing a certain amount of care for your senior family member, you may want to consider these as possible gift ideas, or just buy them to help make their life, and hobby, easier on them.
If your loved one has had knee or hip surgery and finds kneeling more difficult, or practically impossible, there are products such as kneeling stools or pads. The stools provide a dual benefit because they can be turned upside down to give your parent a little extra height for reaching things like hanging baskets, birdfeeders, etc. The kneeling pads can either come with or without handles, but if your parent has trouble getting up from a kneeling position, a pad with handles attached would make it much easier for them.
Raised garden beds or planters are wonderful alternative and prevent your loved one from having to bend over so much or kneel. Even something that's raised a couple inches can make a big difference. There are also standing containers and hanging baskets, as mentioned earlier.
For tools and other pieces of equipment with handles on them, there are add-on handles and gripping aids that can be purchased to help your family member by letting them be in an upright or seated position, rather than having to bend, kneel or stretch too high. If your family member has trouble seeing you or they may want to consider tools or wrist loops that are different colors. That way it'll be easier for them to tell them apart. There are also plenty of tools on the market that are more ergonomically suited for aging adults whose grip is no longer what it used to be or who may suffer from arthritis.
For watering purposes, replace the old, clunky, heavy hoses with something lightweight and that doesn't coil and get tangled.
There are rolling garden carts, which provide a place to sit, but can also have a tool tray attached to them, or a bucket for transporting flower pots, etc.
If you want to find any of these kinds of tools or pieces of equipment to help make your parent's gardening experience safer and more pleasurable, call your local lawn and garden center to see if they offer any products like this. If nothing else, there are several places on the Internet that sell them.
If you or an aging loved one are considering hiring

senior care in Linden, NJ

, call the caring staff at Helping Hands Home Care today at 908-418-4299.
Providing Home Care Services in all of Northern and Central NJ, including Clark, Westfield, Cranford, Scotch Plains, Rahway, Linden, Summit, Edison, Elizabeth, Mountainside and the surrounding areas.
Latest posts by Robert D'Arienzo
(see all)