Senior Care in Scotch Plains NJ
Proper oral health care is one of the most important elements of your senior care efforts for your aging parent. Taking care of her mouth is essential for taking care of and protecting her overall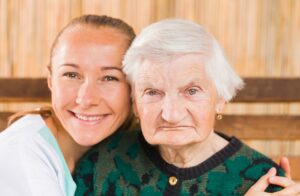 health and wellbeing, preventing decay, tooth loss, infection, and serious health problems throughout her entire body. Being aware of the possible complications that can occur within her mouth and being prepared to handle them successfully can help you to guard your aging loved one from pain, discomfort, and severe consequences.
One very serious issue that can occur within your parent's mouth is an oral abscess. This infection is a pocket of pus that can either occur at the base of a tooth or in the gum tissue near a tooth and is caused by bacteria. These can develop incredibly quickly and can stem from an improperly treated tooth issue such as a cavity or trauma, an illness that introduced bacteria into an existing injury or damage to the tooth or gum tissue, or even recent dental work. The abscess itself can develop within only a day or two of the infection beginning, but can last for weeks, months, or even years. These infections do not go away on their own, and if they are not treated properly they can result in infections that spread throughout the mouth, infect and damage other teeth, and may even extend into the blood system causing sepsis, a potentially life-threatening infection that spreads throughout the entire body.
There are two types of abscesses, ones that occur in the gum and ones that occur inside or directly under the tooth itself.
Periodontal abscess. This type of abscess occurs in the gum and happens when bacteria enters the space between the tooth and gum and becomes infected. This is a common result of food getting into this space, but can also occur due to trauma or damage to a tooth, or bacteria entering an existing gum injury
Periapical abscess. This type of abscess occurs inside the tooth and happens when the nerve of the tooth is either dying or has already died. It is visible through a dental X-ray as a pocket of pus at the tip of the root
Most often abscesses are very painful, but this is not always the case. Some of the symptoms are more subtle or may not seem like they are related to this type of infection. Pay attention to how your parent behaves and if she complains of any of these symptoms to you or her senior health care services provider as they may be indications of an abscess that needs immediate treatment to prevent further damage and risk:
Severe pain in a tooth or a particular area of gum
Throbbing, persistent pain in a tooth or gum
Sensitivity to temperature extremes, including when eating or drinking or when exposed to air of extreme temperatures
Sensitivity to pressure such as biting or chewing
Swelling in the lips, cheek, or other areas of the face
Fever that cannot be connected with an illness or other issue
A pimple-like area on the gum
Swelling and redness near a tooth
Drainage from around a tooth
Sudden relief from the pain and pressure along with a salty, unpleasant tasting and foul-smelling substance rushing into the mouth. This occurs if the abscess ruptures.
Getting the dentist as soon as possible is critical to prompt and effective treatment of an abscess. If your parent is experiencing these symptoms and cannot get into her normal dentist, or she is experiencing difficulty breathing, head to the emergency room.
If you or an aging loved one are considering hiring senior care services near Scotch Plains, NJ, call the caring staff at Helping Hands Home Care today at (908-418-4299).
Providing Home Care Services in all of Northern and Central NJ, including Clark, Westfield, Cranford, Scotch Plains, Rahway, Linden, Summit, Edison, Elizabeth, Mountainside and the surrounding areas.
http://www.mayoclinic.org/diseases-conditions/tooth-abscess/symptoms-causes/dxc-20185944
http://www.colgate.com/en/us/oc/oral-health/conditions/dental-emergencies-and-sports-safety/article/abscess
Latest posts by Robert D'Arienzo
(see all)