Home Care in Mountainside NJ
So many positive things come with the beginning of spring.  Elderly adults will find that they are able to get outside more often to take walks and enjoy the outdoors.  Driving conditions will also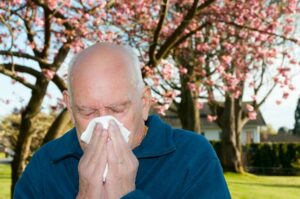 improve so that elderly adults can more easily get from place to place.  However, for many, the coming of spring can also mean seasonal allergies and their symptoms which can range from irritating to severe.  If your elderly loved one suffers from seasonal allergies, don't let it prevent them from enjoying the beauty of spring.  Follow these helpful tips to help them manage their allergies and breathe easier:
Check in with the Doctor
If your loved one is suffering from allergies give them severe symptoms that prevent them from doing their normal daily activities, it may be time to check in with their doctor.  A doctor can help your loved one to find an effective treatment for their allergies which may include medications.  It is also important to check in with a doctor about severe allergy symptoms so that they can rule out any other causes.
Garden with Care
If your loved one has allergies to pollen, be mindful of what gets planted in the garden in their yard.  Aim to plant low-allergy shrubs and trees that will not cause your loved one's symptoms to flare up.  Unfortunately, you cannot control what gets planted in other places in the neighborhood, so this strategy is not 100% effective.
Vacuum Regularly
If your loved one suffers from allergies to dust and pet hair as well as pollen, it is a great idea to vacuum the carpets in the home on a regular basis.  This will keep allergens out of the home and air and reduce allergy symptom flare ups.
Change the Air Filter
Don't forget about the air filter on your loved one's furnace!  The air filter can trap dust and allergens but it cannot do its job if it is too old and dirty.  Check the air filter regularly and replace it when needed.  If your loved one suffers from severe allergies, having a free-standing air filter in the home is a great idea.  It can be placed in their bedroom or any room where they spend a lot of time and remove allergens from the air.
If you or an aging loved one are considering hiring home care near Mountainside, NJ, call the caring staff at Helping Hands Home Care today at 908-418-4299.
Providing Home Care Services in all of Northern and Central NJ, including Clark, Westfield, Cranford, Scotch Plains, Rahway, Linden, Summit, Edison, Elizabeth, Mountainside and the surrounding areas.
Source:  http://www.webmd.com/allergies/features/severe-allergies
Latest posts by Robert D'Arienzo
(see all)