Senior Care in Elizabeth NJ
One of the more interesting developments of today's culture is the growing number of adults who are part of the new "demographic sandwich." This term has come to describe the millions of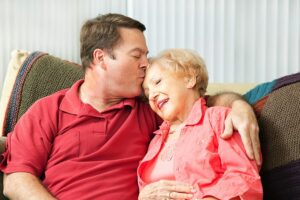 Americans who find they are dealing with raising children while also providing elder care to parents, grandparents and other seniors, especially in-home care.
A Problem that Continues to Grow
In fact, nearly 47 percent of all adults who are in the age group of 40 to 50 years old have both children 18 or younger and at least one parent over the age of 65. These numbers come from a recent study by Pew Research, and show a significant increase since the turn of the century. Moreover, at least 15 percent of these adults now provide financial assistance to both a senior and a child in the same year.
To make the matter worse, a separate study by the same groups shows that the number of young adults over the age of 18 living with parents continue to rise. These factors, along with the fact that aged parents are also living longer, put a great deal of stress on those who find themselves wedged between such financial and personal responsibilities.
Searching for Good Solutions
These dynamics force many of today's 40 and 50-year olds to search for reasonable solutions to these demands, while also maintaining their own jobs and relationships. While some are able to serve as personal caregivers, the practical reality is that many are unable to provide the type of attention needed for effective in-home care.
If you add to these circumstances that many of the elderly want to stay in their home, the need for some form of loving and efficient senior care become a critical concern for many families. Fortunately, the home care industry has responded to this growing need. The professional caregiver agencies have done this by developing affordable and compassionate methods and staffs to provide the elderly care seniors desire and deserve.
It is now possible to find caregivers who see their work in the home care segment as a mission to make the lives of seniors more enjoyable and rewarding. To the relief of many adult children, they are able to work with an experienced case manager and obtain custom-designed care plans for their parents and others for whom they are responsible.
What makes this solution so acceptable to many of the "sandwich generation" is the opportunity to provide quality care while maintaining control of their own schedule. To that end, they can specify a range of senior care services such as:
Scheduled daily or periodic wellness checks
Daily or scheduled trips to receive medical care, go shopping, or other special needs
On-demand 24/7 in-house elderly care during an illness or after a medical procedure
In-house therapy and administration of medicines.
The professional elder care solution makes it possible for many to survive the needs of supporting loved ones on both ends of the age spectrum without giving up their own freedom or peace of mind.
If you or an aging loved one are considering hiring senior care services near Elizabeth, NJ, call the caring staff at Helping Hands Home Care today at 908-418-4299.
Providing Home Care Services in all of Northern and Central NJ, including Clark, Westfield, Cranford, Scotch Plains, Rahway, Linden, Summit, Edison, Elizabeth, Mountainside and the surrounding areas.
Latest posts by Robert D'Arienzo
(see all)