Caregivers in Summit NJ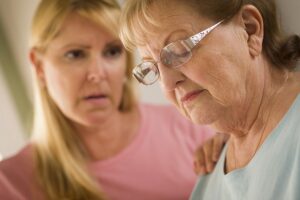 The month of March is recognized as Deep Vein Thrombosis Month, a time for seniors and their caregivers to learn more about this serious health condition and spread awareness about its prevention and how to spot the signs and symptoms. Deep vein thrombosis (or DVT) is a blood clot that forms in a deep vein, usually in thigh or calf. The danger of DVT is that it can lead to pulmonary embolism, a very serious medical condition that requires immediate care. During the month of march, Deep Vein Thrombosis Month, family caregivers are urged to learn more about DVT and pulmonary embolism and what to do if either occurs. For family caregivers concerned about their loved one's risk for blood clots, here is some useful information about pulmonary embolism and what to do if it occurs in your loved one.
What causes pulmonary embolism?
Pulmonary embolism is the direct result of DVT. A blood clot that occurs in the leg can travel to the lungs and block a blood vessel. When this happens, oxygen levels in the blood drop which can cause damage to the lungs, other organs, or even cause heart failure. Pulmonary embolism is a life-threatening condition, so if your loved one has a history of blood clotting problems or DVT, it is important for you to know the signs and symptoms of pulmonary embolism and what action to take if it does occur.
What are the signs and symptoms of pulmonary embolism?
When pulmonary embolism occurs, a patient may experience chest pain, shortness of breath/fast breathing, coughing (sometimes coughing up blood), rapid heartbeat, lightheadedness, or anxiety. Family caregivers may notice that these symptoms could also be indicative of another medical condition such as a heart attack or pneumonia. It may be difficult to know for sure which condition is to blame, but it is important for caregivers to call 911 and seek help immediately if they notice their loved one experiencing the above symptoms.
How is pulmonary embolism treated?
Depending on the severity of the clot, your loved one's doctor may recommend medications to eliminate the clot or even decide to perform surgery to remove it (in serious cases). After the clot is removed or dissolved, your loved one's doctor will most likely recommend that they take a blood-thinning medication for about 3 months. Caregivers can help their loved one to take their medication as directed and make sure that their loved one attends all follow up appointments as their doctor. A doctor can help discover the cause of your loved one's DVT and help you to help them prevent DVT in the future.
If you or an aging loved one are considering hiring a professional caregiver near Summit, NJ, call the caring staff at Helping Hands Home Care today at (908-418-4299).
Providing Home Care Services in all of Northern and Central NJ, including Clark, Westfield, Cranford, Scotch Plains, Rahway, Linden, Summit, Edison, Elizabeth, Mountainside and the surrounding areas.
Source: http://www.webmd.com/dvt/guide-to-dvt-13/pulmonary-embolism-dvt
Latest posts by Robert D'Arienzo
(see all)