Caregiver in Edison NJ
It's easy to get bored, but as a family caregiver it's also easy to think that your loved one doesn't need to do much beyond whatever she wants to do. That's perfectly fine, of course, but sometimes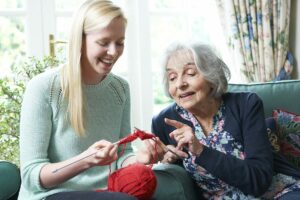 those activities, like watching TV, don't really engage her brain or make for good company. Try looking for activities that you can do together and that can keep your loved one's brain active, too.
Reminisce About the Past
Have you ever asked your elderly loved one about her past? Now is a great time to talk about her early life and to get to know who she was before she grew up and grew old. Talk to your loved one about any aspect of life from childhood on. If your loved one seems to be stumped as to what to talk about, start asking open-ended questions like, "Tell me about your friends when you were in elementary school." or "What were your parents like?" As she opens up more, you can start to ask more questions related to her answers.
Read Aloud Together
Find your loved one's favorite books and take turns reading them aloud to each other. You can also try to find new favorites that you both enjoy. When you're tired of reading aloud, find books on tape that you both enjoy and listen to them together. This is a great way to spend time together without having any pressure on either of you to come up with conversation.
Make or Listen to Music
Making or even listening to music is a wonderful way to keep your loved one's brain engaged. Find a favorite radio station together or look for old music that your loved one used to enjoy. Get up and dance together, making it a dance party. You'll both benefit from the extra movement.
Create Something
It's always meaningful to create something with your elderly loved one. This could mean baking something together, knitting together, or even putting scrapbooks together. Find something that you can do together that creates in some way and you'll both find it fulfilling. It's also a great way to keep busy while talking about something.
Take a Walk
Look for different places that you can walk with your elderly loved one. Sure, around the block is a possibility, but try out different parks, nature trails, and other areas. You'll see new things and you'll both get in some exercise together.
The list is truly endless, but these ideas can get you started.
If you or an aging loved one are considering hiring

caregiver services in Edison, NJ

, call the caring staff at Helping Hands Home Care today at (908-418-4299).
Providing Home Care Services in all of Northern and Central NJ, including Clark, Westfield, Cranford, Scotch Plains, Rahway, Linden, Summit, Edison, Elizabeth, Mountainside and the surrounding areas.
Latest posts by Robert D'Arienzo
(see all)