Caregiver in Linden NJ
When you realized that your aging parent was in need of care and support in order to manage needs, challenges, or limitations that made it so that they were not able to live on their own safely and comfortably, your goals was likely to be the best caregiver you could possibly be for them. You recognized the valuable role that this would play in your parent's life and wanted to make sure that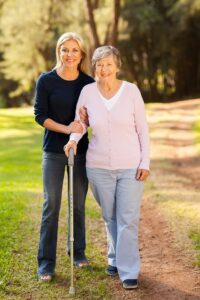 you fulfilled that role in the best way possible. This means exhibiting certain characteristics that will help to be the best caregiver that you can, giving your senior their best quality of life possible while also making sure that you stay safe and healthy as well.
The top characteristics of a successful family caregiver include:
Dedication. Being a family caregiver is not something that you can just think of occasionally. You must be dedicated to your role and committed to doing what you need to do to care for your senior on a regular basis. This does not mean that you need to devote all of your time, energy, effort, and resources to your parent's needs, but it does mean that you should focus on constantly evaluating their needs and ensuring that you are giving them the best care for them as an individual.
Humor. Some of the challenges and demands that you will encounter in your journey as a family caregiver will be difficult. You might face the need to do things that you never imagined that you would have to do for your aging parent, or situations that are uncomfortable or upsetting. Maintaining a sense of humor can make a tremendous difference in your ability to get through these difficult situations in the best way possible. This does not mean that you should make fun of the situation or that you should not take your responsibility seriously. Instead it simply means that you should maintain a sense of optimism and when you are facing something that seems too difficult for you to overcome or that is strange or upsetting, you allow yourself to laugh. For example, allow yourself to find it funny when your usually prim parent who is now going through Alzheimer's disease suddenly lets out a string of expletives. While it might be startling, letting yourself also find it funny can ease the tension and keep you feeling in control.
Flexibility. Organization and planning are essential tools for a family caregiver, but they do not always work out the way that you think that they should. You may find that you think you have everything planned out perfectly, only to realize that what you thought that you were going to do, or how you thought that something was going to work out, actually does not work out that way. Be willing to be flexible so that you are able to go along with situations as they arise and make the decisions then that are best for your aging parent, and for you.
If you or an aging loved one are considering hiring

caregiver services in Linden, NJ

, call the caring staff at Helping Hands Home Care today at 908-418-4299. Providing Home Care Services in all of Northern and Central NJ, including Clark, Westfield, Cranford, Scotch Plains, Rahway, Linden, Summit, Edison, Elizabeth, Mountainside and the surrounding areas.
Latest posts by Robert D'Arienzo
(see all)