Caregiver in Summit NJ
Experts say that shoppers will spend approximately 91 billion dollars doing online shopping during the 61 official shopping days this holiday season. Online shopping is a fantastic way to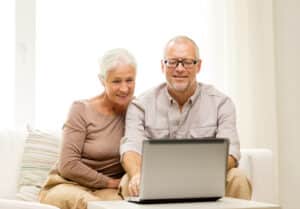 streamline holiday shopping, find unique items that you might not be able to find other places, and encourage elderly adults who may not be able to handle the holiday shopping crowds to take on more of their own shopping during the shopping season. As a family caregiver, however, you want to make sure that your parent is safe when they head online to start spreading the holiday cheer.
It is an unfortunate reality that where there is the fun and joy of holiday shopping, there is also the temptation for con artists to try to steal money and personal information from unsuspecting shoppers. It is important that you help your parent understand the risks that they face when they shop and to make good decisions about how they can take advantage of the ease, convenience, and often spectacular deals of online shopping this holiday season while still protecting themselves and their future.
Some online shopping risks that your aging parent might face during this holiday season include:
Fake apps. Apps are the cutting edge of shopping, with people whipping out their mobile devices to go shopping while sitting in waiting rooms, standing in line, or stuck in traffic. While this can be one of the most convenient ways to shop, it can also be one of the easiest to lead to defrauding. Avoid theft and other fraud by making sure that your senior only uses valid, official apps. Avoid apps that are brand new, that have few, poor, or obviously fake customer reviews, that use broken English, or that do not have the correct logos
Fraudulent surveys. Especially during the holiday season it is common for con artists to send out emails that offer "surveys" that will earn the recipient a cash reward, gift card, or other incentive. Instruct your parent never to open an email that does not seem to come from a legitimate place, and never fill out any information on a form that was redirected from an email. Do not provide any credit or bank account information to such surveys or for any unsolicited reason
Copied sites. This one can be much more difficult for your aging parent, or even for you, to recognize. Some sophisticated conmen created false versions of respected sites and then sell cheap versions of items or simply steal financial information. These can look almost exactly the same as the real site, but have distinct differences in their web address. Check the web address extremely carefully before using the site. Make sure that the company name is spelled correctly and that it has the proper ending, such as ".com" rather than ".cm" or ".mn"
Fake auctions. Auction sites can seem like a great way to save money and get hard-to-find items, but they can also be an easy way for someone to scam your parent. Make sure that they only use reliable auction sites that offer buyer protection, that they check the rating and reputation of the seller before buying, and that they confirm that the person has the item "in hand" rather than just accepting "pre-orders".
If you or an aging loved one are considering hiring

caregiver services in Summit, NJ

, call the caring staff at Helping Hands Home Care today at 908-418-4299. Providing Home Care Services in all of Northern and Central NJ, including Clark, Westfield, Cranford, Scotch Plains, Rahway, Linden, Summit, Edison, Elizabeth, Mountainside and the surrounding areas.
Source:  http://blog.aarp.org/2016/11/23/the-sneakiest-online-shopping-scams/
Latest posts by Robert D'Arienzo
(see all)