Senior Care in Westfield NJ
As a family caregiver, you expect to find yourself helping your parent with the everyday tasks of living. There is a role that is not as well-known, but plays a vital part in your loved one's well-being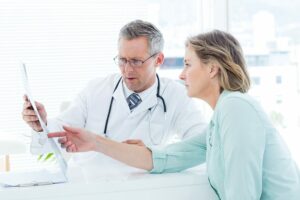 —playing the role of advocate for your parent in relation to their health care.
Health Care Advocate
Ideally, you will find yourself accompanying your parent to their health care appointments. If they are uncomfortable with this, consider setting up a system in which their health team phones you following an appointment or at the end of their day. Health care providers are not equal in their accessibility; however, this is an important part of the service they provide. If your parent is confused or has trouble with memory, someone else must be informed regarding diagnosis, recommended treatments, and medications.
For some seniors, designating a person outside the immediate family to accompany them to appointments removes some of the angst. This instills a sense of camaraderie, like a friend sitting with them through a visit, instead of reminding them of the reversal in roles now taking place. Senior care providers can supply this need.
Unless you have signed a health care proxy and are determined to be the guardian, you parent will need to give the health care team permission to give you information. The best way to obtain this is to have your parent sign the HIPAA release form, or a medical release form provided by the medical team.
Don't Take No for an Answer
If you find a member of your parent's health care team difficult to communicate with, consider alternatives. Some people have an easier time with the written word than with face-to-face or phone conversations. Consider emailing a list of your concerns prior to your parent's appointment. This helps the health provider to be clear on what needs to be addressed. In addition, while most will take the time to talk with one family member, they do not have the time or inclination to talk to multiple family members. Pick one person who will relay the information to others.
If your loved one has more than one health care provider, you will need to be the keeper of the records. Knowing the recommended treatment and medications helps to ensure nothing contradicts one another. When addressing medication concerns, seek help from your local pharmacist. They are usually happy to speak with you to address any side effects or interactions that may be an issue.
Senior Care Providers
In addition to assisting with the daily activities of living, these professional care providers can assist with transportation, medical appointments and medication reminders.
If you or an aging loved one are considering hiring

senior care in Westfield, NJ

, call the caring staff at Helping Hands Home Care today at 908-418-4299. Providing Home Care Services in all of Northern and Central NJ, including Clark, Westfield, Cranford, Scotch Plains, Rahway, Linden, Summit, Edison, Elizabeth, Mountainside and the surrounding areas.
Latest posts by Robert D'Arienzo
(see all)