Home Care in Linden NJ
When providing care for an elderly parent, it is not unusual to have disagreements with family members who also want to help. You may have one idea as to how the elder should be cared for,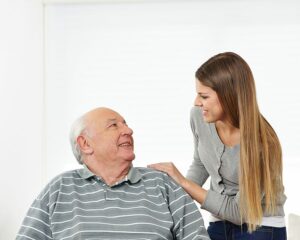 while other family members may have completely different ideas. This situation can be extremely frustrating, but all siblings and family members need to learn to work together for their aging loved one. In order to prevent future arguments from a rising, while even possibly strengthening your bond, here are some tips to try.
Hold a family meeting. Whether you have just begun caring for your loved one or can feel a crisis brewing with other family members, holding a meeting may diffuse these and future situations. Come to an agreement as far as who will handle which caregiving tasks. For example, if one sibling is great with money, maybe they should take care of the elder's bills. Make sure everyone is on the same page for the health and care of the senior.
Listen to all sides. Before quickly dismissing the feelings and opinions of your sibling, truly listen to what they are saying. It can be difficult to do this, but try not to let your childhood self make an appearance. Your brother or sister may have been mean to you when you were young, but it is time to let those emotions go now that you are both adults.
Hire outside help. If agreeing on the care of your loved one is an impossible task, hire an elderly care provider. This professional caregiver has experience and will be able to provide the same quality of care you or your sibling would've be able to, minus all of the arguing.
Show your appreciation. While you may not all have the same caregiving ideas, you are all there for the same reason – to care for the elder. Try to show your appreciation for your siblings as often as you can. Simply saying "thank you" will show your family member that you value them and all they are doing to help.
Having to make all of the caregiving decisions alone can be stressful. However, by having other family members who you can share these responsibilities with, it will take much of the burden off of your shoulders so that you can solely focus on the health and well-being of your aging parent. Keep these ideas in mind when sharing the caregiving role with your siblings.
If you or an aging loved one are considering hiring

home care in Linden, NJ

, call the caring staff at Helping Hands Home Care today at 908-418-4299. Providing Home Care Services in all of Northern and Central NJ, including Clark, Westfield, Cranford, Scotch Plains, Rahway, Linden, Summit, Edison, Elizabeth, Mountainside and the surrounding areas.
Source:
http://www.aarp.org/relationships/caregiving-resource-center/info-12-2011/siblings-disagree-on-parents-care.html
Latest posts by Robert D'Arienzo
(see all)