Home Care in Summit NJ
It may be difficult to encourage elderly people to at least consider professional home care. Some people have certain misconceptions about the services, or they have a tendency to feel as though relying on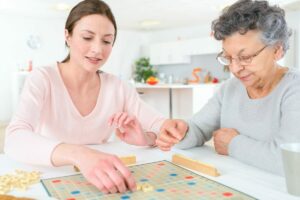 somebody else is a sign of weakness. No one really wants to feel weak or vulnerable, but as people get older, their physical capabilities change and there will be numerous things they can no longer do as before. There may be certain activities they used to enjoy, but now it's not practical any longer.
Discussing home care may be difficult for some family members to bring up with elderly loved ones, mostly because they don't know how they will react. Focusing on the ways that experienced caregivers can improve their life is one of the best first steps in discussing home care services.
Below are three ways that home care may actually improve life for seniors:
1. Encouraging activity.
Some family caregivers may have a tendency to discourage their elderly loved one from participating in certain activities because they are concerned about their safety and well-being. Experienced caregivers often encourage seniors to stay as active as possible.
2. Offering companionship.
Many seniors who require some type of home care may feel isolated and alone. This can be exacerbated if they have friends or loved ones who have moved away, passed away, or don't have the ability to visit with them any longer. A caregiver stopping by on a regular basis will offer the senior companionship.
3. Focusing on diet.
Seniors who have difficulty getting around may not prepare meals. They may have a tendency to rely on processed meals and frozen foods, which offer very little nutrition. An experienced in-home care provider will likely be able to assist the senior in preparing meals that are healthy and taste great.
These are just three ways that home care can improve life. When you focus on these things, it becomes much easier to encourage the senior to at least consider the prospect of home care services.
If you or an aging loved one are considering hiring home care services near Summit, NJ, call the caring staff at Helping Hands Home Care today at 908-418-4299.
Providing Home Care Services in all of Northern and Central NJ, including Clark, Westfield, Cranford, Scotch Plains, Rahway, Linden, Summit, Edison, Elizabeth, Mountainside and the surrounding areas.
Latest posts by Robert D'Arienzo
(see all)