Elder Care in Edison NJ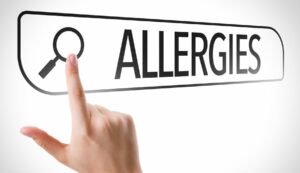 Now that fall allergy season is upon us, your elderly loved one may be experiencing some uncomfortable symptoms.  Ragweed pollen, a very common allergen, is very prevalent in the fall and it can cause a wide range of symptoms from runny nose to itchy, watery, or dry eyes.  In addition, other allergens that can be present in your loved one's home such as pet dander, dust, or mold can also cause some of these bothersome symptoms.  If your loved one commonly experiences dry or itchy eyes during allergy symptoms, there are many things that you can do as a caregiver to help they relieve their symptoms and start feeling great again.  Here are just a few things that you can try:
Make Green Tea Compresses
Green tea is a calming and comforting beverage that has many health benefits.  In addition, green tea can act as an anti-inflammatory.  Green tea can be placed topically on the eyes to calm irritation and itchiness and relieve dryness.  Simply brew tea with green tea bags and then take the bags out of the water to let them cool.  Once they are completely cooled, have your loved one place them on the eyes for several minutes.  Don't forget to also drink the tea that you have brewed!
Cucumbers
Placing cucumbers on the eyes is a traditional spa trick that can actually work wonders.  If your loved one's eyes are itchy, red, and irritated, have them place cucumber slices on their eyes for about ten minutes.  The cucumbers can help reduce inflammation and puffiness.  This can be done several times each day, if needed.
Cool Compress
A simple cold compress can also do the trick during allergy season.  Have your loved one place a cold compress over the eyes for several minutes to get relieve from dryness, swelling, and irritation.
Use a Humidifier
If your loved one experiences dry eyes during allergy season, it is a great idea to run a humidifier in the home.  Placing one in the bedroom is a great choice as is placing one in any room that your loved one spends a lot of time in, such as the living room.  Your loved one will very quickly notice that their eyes will start becoming less dry.
Reduce Allergens
Knowing how to treat symptoms is important, but so is reducing allergens which are the cause of the symptoms.  Keep the windows closed during ragweed season and use a clean air filter in the furnace or air conditioning.  Keep pets well groomed and vacuum the home frequently.
If you or an aging loved one are considering hiring

elder care in Edison, NJ

, call the caring staff at Helping Hands Home Care today at 908-418-4299. Providing Home Care Services in all of Northern and Central NJ, including Clark, Westfield, Cranford, Scotch Plains, Rahway, Linden, Summit, Edison, Elizabeth, Mountainside and the surrounding areas.
Source:  http://www.rd.com/health/conditions/home-remedies-dry-eyes/
Latest posts by Robert D'Arienzo
(see all)