Elder Care in Linden NJ
Healthcare is something that will play an important role in your elder care journey with your aging parent. Most seniors contend with health concerns and problems, and a very large percentage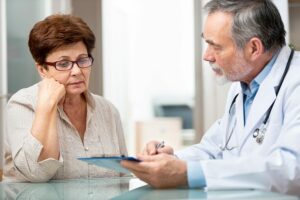 deal with multiple of these conditions at the same time. This means that she is going to spend time in medical facilities getting checkups, receiving treatments, and undergoing procedures. As this happens, she is building a medical record and one of your responsibilities as her family caregiver is to help her protect this information.
April 11 through 16 is Health Information Privacy and Security Week. This observance is designed to raise awareness about health information privacy and what you can do to keep your loved one's information safe. Health information security is not just about protecting her privacy by not letting others know what types of medical conditions she is coping with or has coped with in her life. It is also about keeping her identity safe. Health information can be used to commit medical and insurance fraud as well as identity theft. Keeping this information safe and security protects your parent's dignity and privacy, but also her safety as well.
Use these tips to help you protect your parent's records during Health Information Privacy and Security Week:
Know your parent's rights. Make sure that you understand your parent's privacy rights. This includes being able to look at her medical records, obtain copies of those records, and know about the privacy practices of any medical facility as pertains to her medical information. She also has the right to complain about these privacy practices and any time that she feels there has been a breach. She can also provide permission for you to do these things as well.
Make sure she reads the Privacy Notice. Any time that your parent receives medical treatment or undergoes a procedure, she will be given a privacy notice that she is expected to read and sign. Make sure that she actually does read this notice and understands it. This notice will contain information about her rights, how her information will be used, and who will be allowed access to that information. This is especially important if she is undergoing treatment at a teaching college. This notice may be releasing the medical team to take pictures and publish information about her condition if she signs it without taking away this permission.
Keep records. Especially if your elderly parent is suffering from serious chronic conditions that require extensive treatment or interaction with a variety of professionals, make sure that you keep records. Access and keep copies of your parent's medical information so that you can be sure that it is accurate and that the right information goes to each new doctor that she sees. Review this information carefully any time that it changes so that you can detect any issues or errors and ensure that they are fixed. Bring these records with you when your parent visits a new doctor or undergoes a new procedure.
If you or an aging loved one are considering hiring elder care services near Linden, NJ, call the caring staff at Helping Hands Home Care today at (908-418-4299). Providing Home Care Services in all of Northern and Central NJ, including Clark, Westfield, Cranford, Scotch Plains, Rahway, Linden, Summit, Edison, Elizabeth, Mountainside and the surrounding areas.
Latest posts by Robert D'Arienzo
(see all)