Elder Care in Scotch Plains NJ
Cognitive decline is something that many family caregivers worry about for their aging parent. You know that a reduction in cognitive functioning will negatively impact your parent's ability to live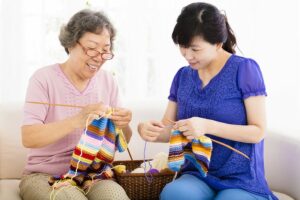 independently and can compromise their quality of life. It also means a change in the care efforts that you have planned for them now and into the future. Helping to ensure that your senior is able to maintain the quality of life that they desire and deserve into their future years even when they are dealing with cognitive functioning decline starts with recognizing when these issues arise. Tracking your parent's cognitive functioning can make it possible to detect changes early, which allows you to get your parent the attention, care, and treatment that they need to cope effectively.
Try these simple ways to track your parent's cognitive functioning:
Evaluate their judgment. While your parent does not have to agree with everything that you believe or respond to every situation in the same way, if you notice obvious judgment problems, it could be a sing of cognitive decline. Evaluate their financial accounts to determine if they are spending erratically. Make sure that they are following basic safety precautions in life, such as checking both ways before crossing a street. These simple things can point to a much larger problem.
Ask to learn something new together. Learning new skills or researching topics together is a fun way to bond your relationship, but it can also help you to monitor your parent's cognitive ability. If they struggle to learn new information or a new skill, take note. It could be an indication that they are struggling with memory or cognitive processing skills.
Pay attention to what they say. What your parent says to you can be a major indication of their cognitive condition. Repeating themselves, using inappropriate or nonsensical words in place of other words, or making statements that sound just a little "off" could point to cognitive decline and warrants a discussion with their healthcare provider.
Starting elder care for your aging parent can be one of the most caring, compassionate, and impactful decisions that you can make for them throughout your caregiver journey with them. Far from an indication that you do not want to care for your aging parent, or that you do not care if they receive what they need, hiring an elderly home care services provider is about making sure that your parent lives the highest quality of life possible while staying safe, healthy, comfortable, and happy. The highly personalized services of an elder care provider are tailored specifically to your parent's needs as well as their lifestyle, goals, and existing care routine with you. This means that whether you are able to be in the home with your parent on a daily basis or live at a distance and are not able to be with them frequently, you can rest assured that they are getting the care, support, and assistance that they need to maintain an active, fulfilling, and healthy lifestyle throughout their later years. When it comes to caring for an elderly adult who is experiencing cognitive decline, an elderly home care services provider can help your parent modify their daily routine to address this decline and provide attentive services designed to keep them active, safe, and healthy, but also to maintain their mental and emotional health. This can be extremely beneficial for progressive forms of cognitive decline to help your parent feel more prepared and confident about their future even as they experience these effects.
If you or an aging loved one are considering hiring elder care in Scotch Plains, NJ, call the caring staff at Helping Hands Home Care today at 908-418-4299. Providing Home Care Services in all of Northern and Central NJ, including Clark, Westfield, Cranford, Scotch Plains, Rahway, Linden, Summit, Edison, Elizabeth, Mountainside and the surrounding areas.
Latest posts by Robert D'Arienzo
(see all)