Home Care in Summit NJ
As a family caregiver you are not alone in caring for your aging parent. Instead, you are a part of a larger team dedicated to doing everything that you can to help your senior maintain their highest quality of life possible. One of the other members of this team is their doctor. The goal of this professional is to help them identify and manage their health conditions, live a healthy lifestyle, and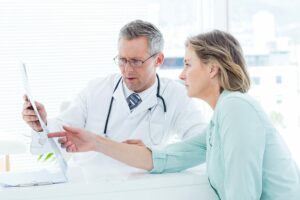 make the most of their years as they get older. Maintaining close communication with this doctor is an important step in staying informed about their condition and well-being, and being able to give them the level of care that they desire and deserve.
Use these tips to communicate effectively with your senior's doctor:
Talk to your parent about it. No matter what your parent is dealing with, it is essential that you remember they are an individual and their health information is personal to them. They have the right to privacy and to know who is discussing their health and personal information. Talk to your loved one about your desire to engage with the doctor and what you want to discuss with them. Remember, however, that if there is a matter of safety or serious health and your parent is being resistant, you may need to do what you have to do even if your parent tries to disengage you from the situation.
Be respectful. If you are going to talk to the doctor when your aging loved one is in the room, be sure that you do not talk about them as if they are not. Keep them involved in the conversation and insist that the doctor is respectful of them as well. If you feel that the topics that you plan to discuss will be too embarrassing for your loved one or you want to be able to speak more freely, consider planning a private meeting.
Let them be the professional. You might have done extensive research and think you know exactly what is wrong with your parent and what should be done about it, but it is important to remember that your parent's doctor is the professional. Give them the opportunity to give you the information. This does not mean that you should not voice your opinion, but be willing to hear what they have to say and let them guide your conversation.
Starting home care for your aging parent can be one of the most effective and nurturing decisions that you can make for your elderly loved one throughout your caregiver journey with them. The highly personalized services of an in-home senior care services provider are designed not just to address your elderly loved one's individual challenges and limitations, but also their emotional, mental, and social needs as well. Through a course of care, assistance, support, and encouragement specifically devised to address your parent as a whole individual, this care provider can encourage your loved one to maintain more independence and enjoy more activity while also keeping them safe, healthy, comfortable, and happy. As their caregiver, this can help you to have greater peace of mind while also ensuring that if there are care tasks that you are unwilling or unable to fulfill, your parent will still get what they need. When it comes to keeping up with your parent's doctor appointments, this care provider can be a valuable source of support. They can attend the appointment with your parent, give them the care and support that they need throughout it, take notes of what is discussed, and report this information back to you so that you can easily keep up-to-date with your parent's health and well-being.
If you or an aging loved one are considering hiring home care in Summit, NJ, call the caring staff at Helping Hands Home Care today at 908-418-4299. Providing Home Care Services in all of Northern and Central NJ, including Clark, Westfield, Cranford, Scotch Plains, Rahway, Linden, Summit, Edison, Elizabeth, Mountainside and the surrounding areas.
Latest posts by Robert D'Arienzo
(see all)