Elderly Care in Rahway NJ
As a family caregiver one of the most challenging experiences that you can face is finding out that your elderly parent has dementia. You know that this means many of your plans for the future will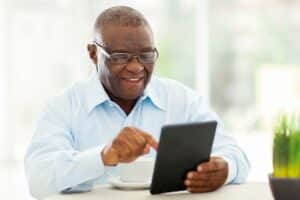 need to change and that you will not be able to see your journey with your parent in the same way that you did before this diagnosis. As you process this diagnosis, however, it is important to turn your thoughts away from just the challenges and difficulties that your loved one will face and focus instead on what you can do to help them. One thing that you might have heard about when it comes to helping your parent cope with their condition is brain training.
Brain training is quite literally exercise for your parent's brain. Just as physical activity is important to keeping their body healthy and strong, brain training helps to keep their mind sharp, active, and responsive. For an elderly adult who is suffering from dementia, this can help them to maintain more functioning for longer, which can make a tremendous difference in their quality of life as they move forward in the progression of their dementia.
For those elderly adults who have not yet been diagnosed with dementia, studies have shown that regularly participating in brain training sessions can experience an up to 48 percent decreased risk of suffering from cognitive decline. This means that the earlier your elderly parent starts participating in these activities, the better the chances that they have at protecting their cognitive health and well-being as they age.
There are many different types of brain training available, but some of the most effective are computer-based. These activities are often designed to seem like games so that they are as entertaining and exciting as they are beneficial to their minds. The most effective of these programs are those that do not just work with one type of brain skill but stimulate the mind in a variety of ways. For example, some computerized brain training programs focus on visual processing skills, which commonly decline with older age. By working the different centers of the brain, these training programs help to keep the mind sharper, stronger, and more responsive throughout your parent's later years.
If your aging parent has recently been diagnosed with Alzheimer's disease or another form of dementia, starting elderly care for them can be a fantastic way to help them live the highest quality of life possible as they age in place. The highly personalized care, support, assistance, and encouragement offered by an elderly home care services provider ensure that your aging loved one is able to manage their limitations and challenges in a way that is right for their individual needs, challenges, and limitations, as well as their personality, beliefs, and goals. This can include focused activities designed to stimulate your parent's mind and help them to keep their cognitive skills as sharp as possible as they progress through their condition.
If you or an aging loved one are considering hiring

elderly care in Rahway, NJ

, call the caring staff at Helping Hands Home Care today at 908-418-4299. Providing Home Care Services in all of Northern and Central NJ, including Clark, Westfield, Cranford, Scotch Plains, Rahway, Linden, Summit, Edison, Elizabeth, Mountainside and the surrounding areas.
Source:  http://www.ialsa.org/study/advanced-cognitive-training-independent-and-vital-elderly-active
Latest posts by Robert D'Arienzo
(see all)