Home Care in Cranford NJ
Helping your elderly loved one to maintain her i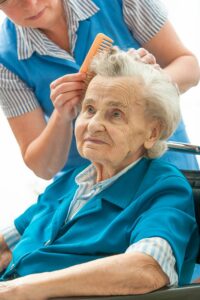 ndependence for as long as possible is something that her in-home care providers can help you do. These are only a few of the ways that they can do that for your loved one.
Why Is Independence Important?
Think back to your teenage years when you first got the chance to go somewhere on your own and make your own decisions. It was amazing, right? Your elderly loved one has been on her own for decades, making her own decisions and doing whatever she wants. Losing that ability is a shock to the system that your loved one doesn't want to experience.
Help with Daily Tasks
Daily tasks can become a problem depending on your loved one's health. Things like cleaning, cooking, and other daily tasks may be too much for your loved one to do on her own. That's where having someone else come in to handle those tasks can free up your loved one's time and energy to focus on what she loves to do.
Help with Personal Care
In some cases, your loved one may have difficulty with taking care of her own personal care tasks, such as dressing and bathing. That doesn't mean that she has to give up her independence, though. Having elder care providers available to assist can allow your loved one to maintain her dignity regarding personal care tasks.
Companionship
When everyone else is busy, that can lead to a lot of lonely hours for your elderly loved one. Instead of leaving her on her own, home care providers can spend time with her engaging in different activities and simply spending time together. That gives your loved one something to look forward to every day.
Help with Transportation
The other downside to having a busy family is that your loved one may need to go to an appointment or run an errand. Instead of having to wait for someone else to be able to take her, her elderly care providers can help with transportation. The added benefit is that you know that your loved one is always in good hands and that she'll arrive safely.
Your loved one's senior care providers can do so much more for her as well.
If you or an aging loved one are considering hiring

home care in Cranford, NJ

, call the caring staff at Helping Hands Home Care today at 908-418-4299. Providing Home Care Services in all of Northern and Central NJ, including Clark, Westfield, Cranford, Scotch Plains, Rahway, Linden, Summit, Edison, Elizabeth, Mountainside and the surrounding areas.
Latest posts by Robert D'Arienzo
(see all)