Caregivers in Westfield NJ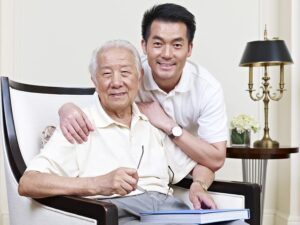 Sibling rivalry is not only something that occurs in childhood; adult children may also show signs of jealousy or irritability towards one another. It is not always easy to differentiate the people our siblings were as kids to who they are as adults. The little brother who was always getting into trouble may still be perceived as irresponsible to his older siblings. But when an elderly parent is in need of senior care from a home care professional, most grownup children will band together to help their mom or dad in any way they can. If your aging parent is receiving in-home care from a trained professional, here are some ways you and your siblings can work together to give the elder the help and support they need.
Respect one another
This is easier said than done, but letting go of any issues you had in the past and respecting one another's opinions and decisions is important to making the right choices for your loved one. Siblings may also fight over who gets the decision-making powers and primary responsibilities, but a mutual respect needs to be shown between you and your siblings for the sake of your parent.
Do not expect equal responsibilities
Depending on the times your elderly parent will need help and your own responsibilities that need to be taken care of, such as your job or family, you may not always be available. If your sister or brother has a more flexible schedule, most of the caregiving responsibilities may rest on their shoulders. As difficult as it may be to hand over the reigns to your sibling, you need to accept it and contribute in other ways that work with your schedule, such as helping them clean their house a night or two per week.
Be kind
Caregiving can be an extremely frustrating experience and may cause you to become an angrier, short tempered version of yourself. It is ok, and healthy, to vent your feelings to one another. However, it is not ok to say hurtful things that could affect your relationship with them. When you are feeling the need to say something that could upset someone, take a few calming breaths, go for a walk, or just take a break to relax.
Gender does not matter
All too often brothers will expect their sisters to take on a majority of the caregiving responsibilities. When it comes to caring for an aging loved one who is receiving elder care due to a health issue, all hands should be on deck. Come up with a caregiving schedule together that works with everyone's schedules in order to help keep the peace between the women and men.
Learn to take advice
You may have no problem taking advice from a complete stranger, but may become defensive when your brother or sister is telling you what to do. It is important that you listen to and respect the advice of your sibling because there is a chance they can teach you something you never would have known without them.
If you or an aging loved one are considering hiring in home care to assist the family caregivers in Westfield NJ, call the caring staff at

 

Helping Hands Home Care today at (908-418-4299).
Providing Home Care Services in all of Northern and Central NJ, including Clark, Westfield, Cranford, Scotch Plains, Rahway, Linden, Summit, Edison, Elizabeth, Mountainside and the surrounding areas.
Source
Jacobs, Barry J. AARP. "Getting Along to Care for Mom."
Latest posts by Robert D'Arienzo
(see all)