Elderly Care in Clark NJ
Does your elderly loved one struggle with anger?  Are they frustrated easily and often, so much so that it affects their happiness and daily life?  If so, it can be a good idea to help them to learn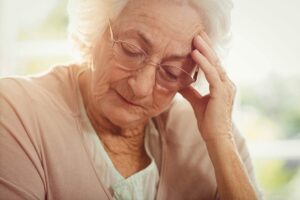 some calming down strategies that can help fight angry feelings.  It is important to keep in mind, however, that anger is a normal and healthy emotion that everyone feels from time to time.  But, when your loved one's anger is out of control, it can have negative effects on their health and on their relationships.  Read on for some calm-down strategies to encourage your loved one to try the next time they feel as though their anger is boiling over.
Take a Break
If your loved one gets overwhelmed or frustrated easily, suggest that they take frequent breaks during the day.  Allow them to have some space and some quiet time to recharge.  Knowing that they will have these peaceful times may help them to cope with life's frustrations a little better without losing their temper.
Have an Exercise Routine
Physical exercise is known to fight stress and help people of all ages to have a happier outlook.  In addition, exercise is very important for elderly adults to help them stay strong and healthy.  If your loved one frequently gets stressed and angry, one way to help reduce their stress is to suggest they begin an exercise routine.  They may begin to see positive results as long as they are consistent.  Before starting an exercise routine, however, it is important that they check in with their doctor to make sure that it is a healthy choice.
Try a Relaxation Technique
Relaxation techniques such as meditation, yoga, deep breathing, visualization, and more can have a very powerful effect on angry and other negative feelings.  In addition, practicing relaxation techniques on a regular basis can help your loved one to live a happier and healthier life.  Some relaxation techniques such as deep breathing, may even help your loved one to calm down in the moment when they feel their anger is about to become out of control.
Seek Help
If your loved one has tried many different strategies and still has trouble calming down and surpassing their anger, it might be a good idea for them to talk with their doctor.  A doctor may recommend counseling which can help your loved one to discover the root cause of their angry feelings.
If you or an aging loved one are considering hiring

elderly care in Clark, NJ

, call the caring staff at Helping Hands Home Care today at 908-418-4299. Providing Home Care Services in all of Northern and Central NJ, including Clark, Westfield, Cranford, Scotch Plains, Rahway, Linden, Summit, Edison, Elizabeth, Mountainside and the surrounding areas.
Source: http://www.mayoclinic.org/healthy-lifestyle/adult-health/in-depth/anger-management/art-20045434?pg=1
Latest posts by Robert D'Arienzo
(see all)