Senior Care in Scotch Plains NJ
If you have noticed that your aging parents are in need of additional care and assistance to get them through the challenges of their daily lives, you may be considering hiring a care provider to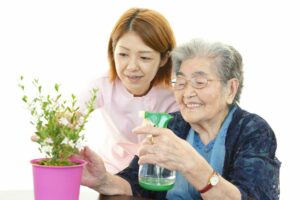 enhance your senior care plan. A senior health care services provider can supplement the care you already give your parents and fill in gaps that may exist due to your own physical, emotional, or time limitations, ensuring a completely personalized care plan that meets all of your parents' needs on a regular basis.
With the important role this care provider plays in your aging parents' lives, you want to make sure you choose the one who will be the best option for your seniors. While most senior health care services providers offer a basic selection of services, including mobility and physical assistance, grooming and personal hygiene assistance, transportation, meal preparation and eating assistance, toileting assistance, and light housekeeping, each individual will have her own personal approach to care. Finding the one who is compatible with your parents' personalities, preferences, and needs is essential to ensuring the most beneficial care relationship possible.
One of the ways you can make choosing the right care provider for your aging parents easier is by narrowing your focus in the earliest stages of your search. By being prepared with basic guidelines that lead you through each stage of the selection process, you can feel more confident about your ability to narrow the options, identify care providers who would be good for your seniors and those who would not be, and start a care relationship that has the best chances of ongoing success for your loved ones.
Use these ideas to help you narrow your focus before you get started searching for the ideal senior health care services provider for your aging loved ones:
• Age range. While it may not be something that you automatically think about when it comes to finding the ideal care provider for your loved one, it may be an important concept for your seniors. Some may enjoy the energy and enthusiasm of a younger care provider, while others may feel more comfortable with an adult closer to their age. By identifying this preference, you can start to narrow the options more efficiently;
• Specific experience. If your aging loved ones have specific challenges that go beyond just the need for basic care and assistance, narrow your search to those care providers who have experience handling those types of challenges. This will give you confidence that the care provider is prepared to give your parents the level of care that is right for them;
• Interests. It may be difficult to narrow your search for care providers to extremely particular interests, but you can start by looking for care providers who enjoy going on outings if your parents like to stay active, who love arts and crafts if your parents are creative, or who love to cook if your parents have always enjoyed being in the kitchen.
After you have chosen your broad guidelines, get in touch with the elder care agency in your area so you can start searching for the ideal care provider for your aging loved ones.
If you or an aging loved one are considering hiring senior care services near Scotch Plains, NJ, call the caring staff at Helping Hands Home Care today at (908-418-4299).
Providing Home Care Services in all of Northern and Central NJ, including Clark, Westfield, Cranford, Scotch Plains, Rahway, Linden, Summit, Edison, Elizabeth, Mountainside and the surrounding areas.
Latest posts by Robert D'Arienzo
(see all)