Senior Care in Edison NJ
Mobility issues are extremely common among aging adults. In fact, according to the Census Bureau, these issues are the single most common ailment faced by adults aged 65 and older with at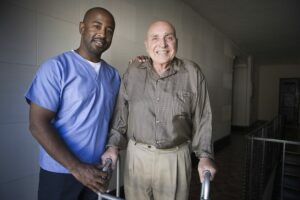 least 40 percent of the adults in this age bracket throughout the United States experiencing at least one classified disability. Around 70 percent of adults this age report having difficulty walking even if they do not have an actual disability.
Mobility devices can be valuable tools for those who are dealing with difficulty getting around. Ranging from simple walkers and canes to motorized scooters, these devices enable your parent to stay more active and engage in the world around them while addressing the challenges that they face getting around.
Some indications that your elderly parent could benefit from using a mobility device include:
Signs of injury. You might not realize that your aging parent is dealing with mobility issues, especially if you are a distance caregiver or you are not in the home with them often. Signs of accidents such as bruising and cuts are a common indication that your parent is having trouble moving around on their own.
Less activity. If your once active and socially engaged parent is now staying home more often, it could be because they are having challenges moving around. They may not want to encounter the hassle of trying to manage their challenges while out, or they might be embarrassed and not want you to know that they are having difficulty. If your parent is turning down opportunities to get out with you, is no longer participating in social organizations that they enjoyed, or is not fully participating in activities such as going to the zoo with you but sitting on a bench rather than actually looking at the exhibits, it may be due to mobility issues and a mobility device could help them reconnect.
Increased reliance on alternatives. Watch how your parent moves around and notice if they are relying on alternative forms of support and assistance. They may reach for the furniture and other items frequently, lean on the wall when they are walking, or even use a rolling chair to ease them across the floor. This could put them in danger if the item that they chose shifts or gives way under their weight. It is better to use an actual mobility device that will support and assist them.
Suffering from mobility challenges and limitations is about much more than just having difficulty walking or getting around the home. Seniors who are dealing with these issues can also have increased trouble managing other tasks that other people often take for granted. This can include trouble getting into and out of the shower, trouble bathing themselves thoroughly, or trouble using the toilet confidently. Whether your parent's mobility issues are relatively mild or they have gotten serious, this is the ideal reason to consider senior care for them. A senior home care services provider can offer personalized, respectful, and dignified care tailored to your loved one's individual needs so that they can maintain as much independence as possible and live the quality of life that they desire and deserve.
If you or an aging loved one are considering hiring

senior care in Edison, NJ

, call the caring staff at Helping Hands Home Care today at 908-418-4299. Providing Home Care Services in all of Northern and Central NJ, including Clark, Westfield, Cranford, Scotch Plains, Rahway, Linden, Summit, Edison, Elizabeth, Mountainside and the surrounding areas.
Source:  http://www.census.gov/newsroom/press-releases/2014/cb14-218.html
Latest posts by Robert D'Arienzo
(see all)